Content provided by Betterhomes: Dubai's COVID-19 response and business-friendly approach continued to positively impact the real estate market in Q3 2021, with plenty of domestic and international demand. The swift vaccine rollout, visa reforms, and 100% business ownership rules have all contributed to attracting new investors and residents to Dubai, a trend that seems to be gathering pace.
Betterhomes, one of Dubai's longest-standing real estate brokerages, released Q3 2021 Dubai Real Estate Market Report, with comprehensive insights on the strength of Dubai's property market, covering both residential sales and leasing.
Commenting on the report, Richard Waind, Group Managing Director at Betterhomes, said, "In my time in the UAE, I've never seen the roads busier or the malls fuller, and there is a renewed optimism in the air. After the unfortunate COVID-19 period, I feel the roaring '20s are finally starting to kick off, and Dubai will be at the heart of the action!"
Over the last twelve months, much of the uplift in the activity has been focused on villas and townhouses, with those who can afford it opting for larger properties with outside space. Prices for villas in prime communities have seen substantial rises, while apartment price rises lagged those of villas over the last year, many prime areas have seen double-digit growth, with Palm Jumeirah again leading the way with a 26% increase.
However, there are signs that the pace of recent price rises is starting to slow as the supply and demand dynamic shifts in reaction to recent price increases. Richard continues, "After a frantic 12 months, there was a feeling in September amongst many brokers that the market was pausing for breath. Whereas a few months ago, a seller could ask 15-20% more than the last sale in their community, buyers simply weren't biting at that sort of uplift. As a result, motivated sellers have been adjusting asking prices accordingly, and when they do, there is plenty of demand.
But do I think this signals that prices have reached their peak? Absolutely not. The recent UBS Real Estate Bubble Report placed Dubai as the best valued global real estate market in the world. With a worldwide audience reinvigorated by Dubai at the moment, I expect prices will continue to rise for the foreseeable future, albeit at a slower rate than we have seen over the past year."
Key findings:
Residential Sales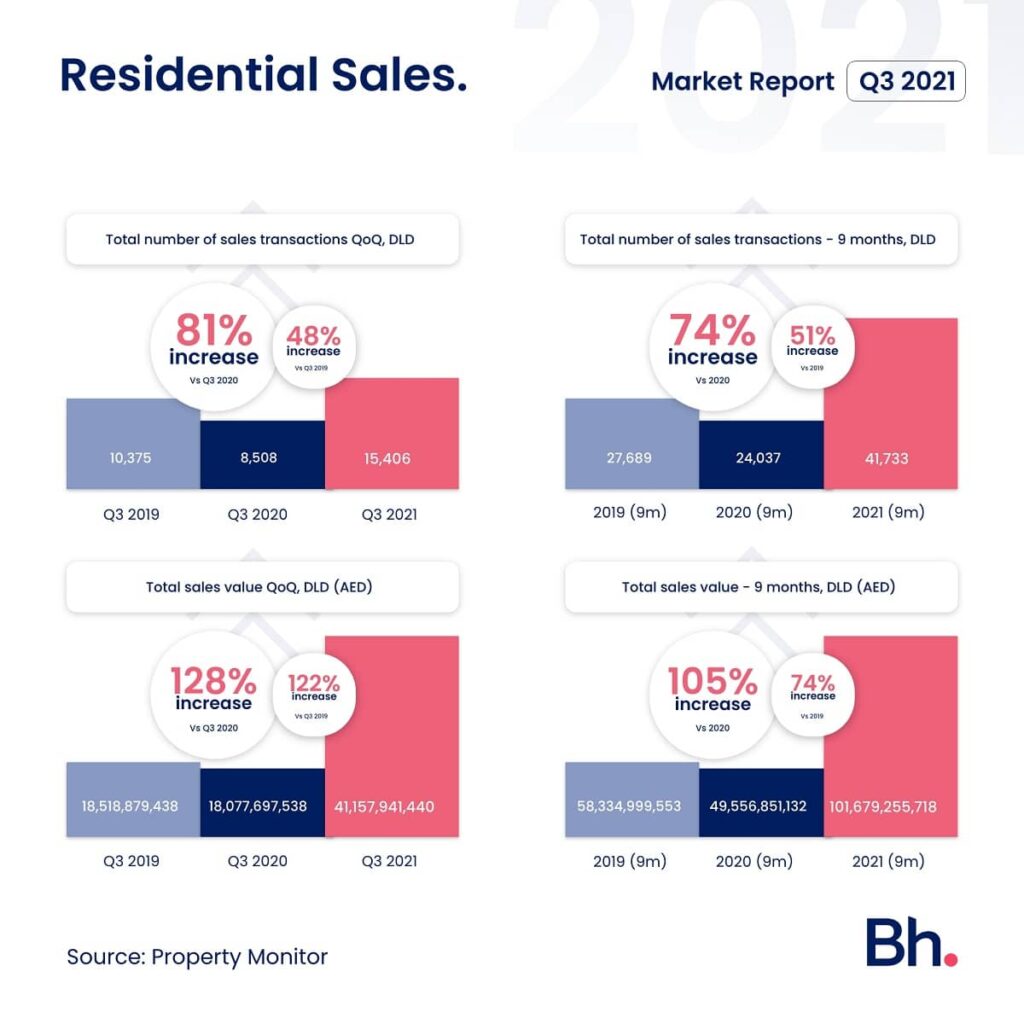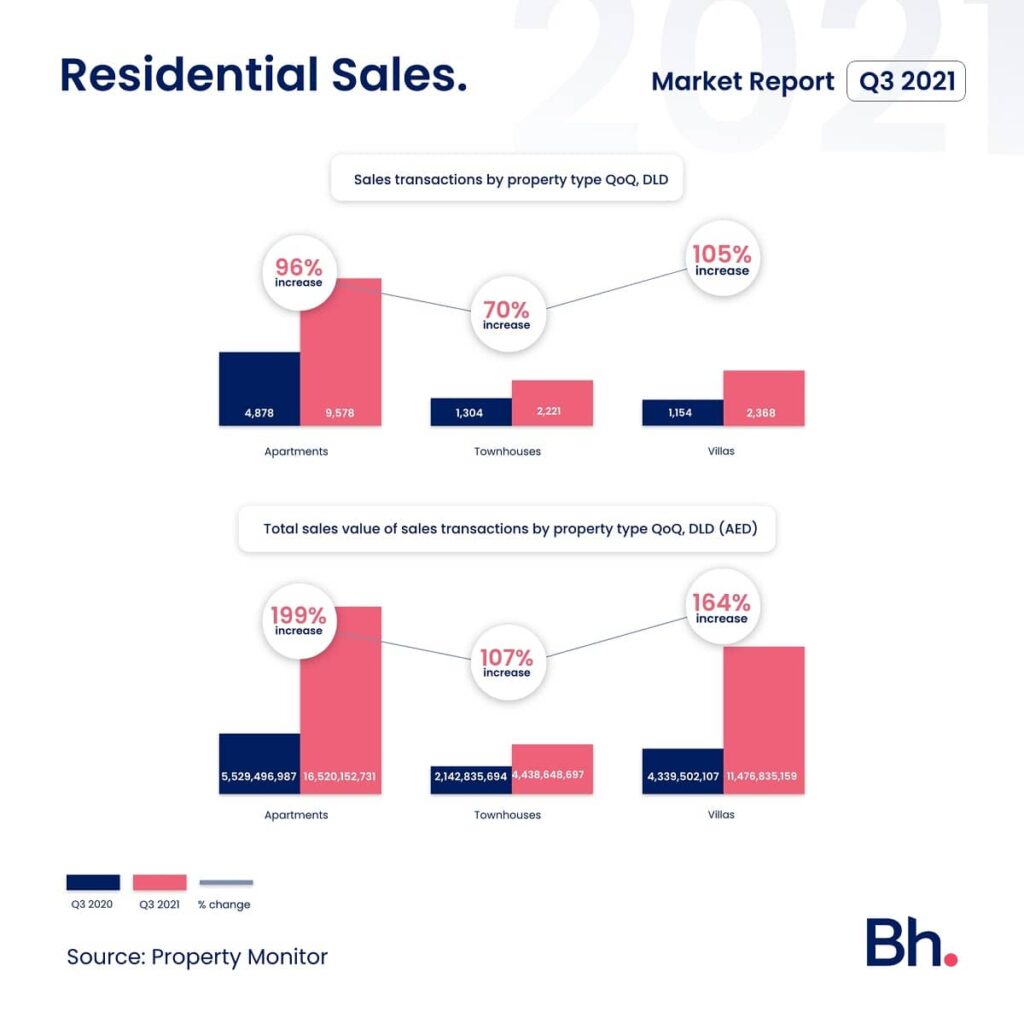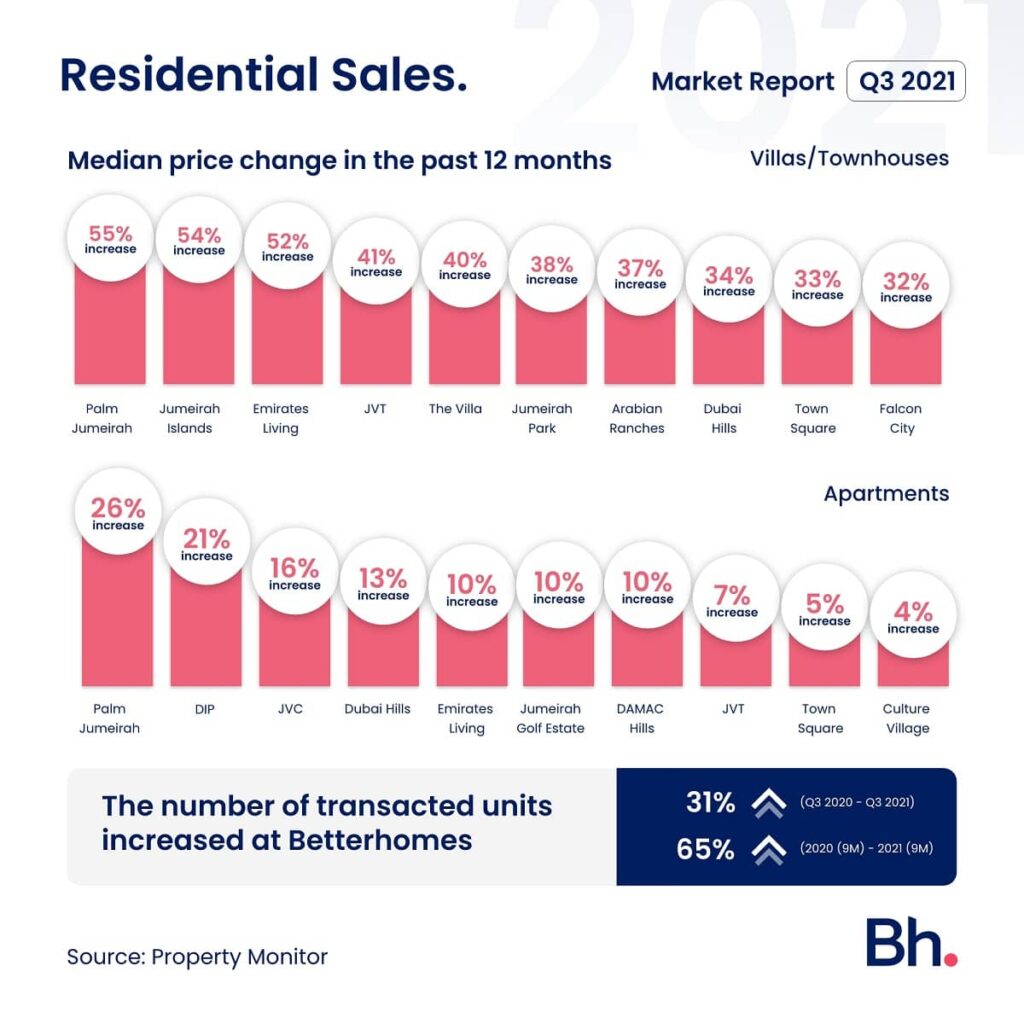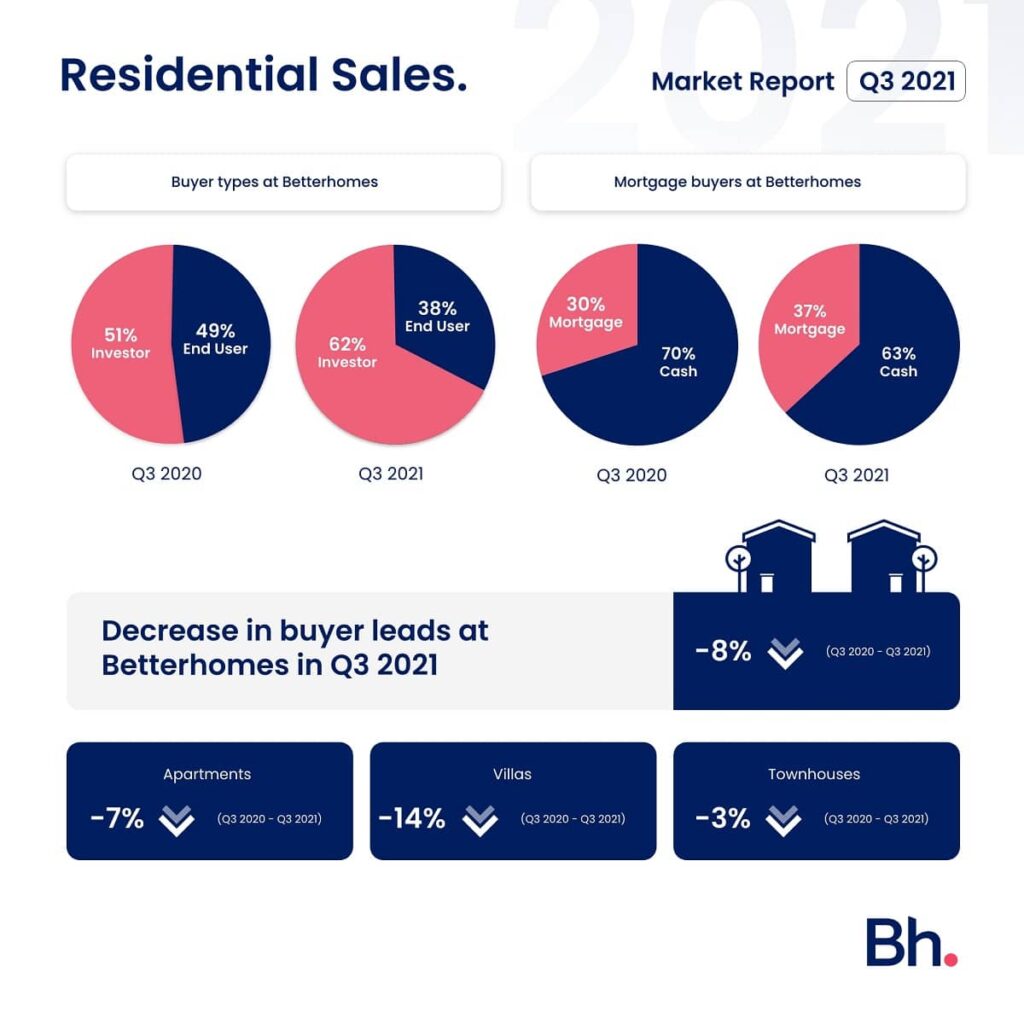 The Dubai real estate market continued to set new records in Q3 with 15,406 transactions registered by the Dubai Land Department (DLD), 81% up from Q3 2020 and 48% up from Q3 2019. The summer defied the traditional view that it is a quieter time in the market, with plenty of activity in both off-plan and secondary markets.
Total transactions for the year now stand at 74% higher than they did at the same in 2020 and 51% higher than the same period in 2019, pre-pandemic. The rise in the value of the property sold in Q3 outpaced transactions, with a 128% increase year on year, reflecting price increases that have been experienced in many areas since the bottom of the market last summer.
Completed villa transactions are up 105% against the same period last year, while the apartment sector also enjoyed a resurgence with a 96% increase in volumes compared to Q3 2020.
Prices for villas in prime communities have seen substantial rises from their record lows last summer. Palm Jumeirah (55%), Jumeirah Islands (54%) and Emirates Living (52%) lead the way as buyers, predominantly end users, have sought lifestyle purchases in well-established communities.
While apartment price rises have lagged those of villas over the last year, many prime areas have seen double-digit price growth, with Palm Jumeirah again leading the way with a 26% increase. Price rises seen in the apartments sector have been less uniform than in the villa sector, with some communities such as Discovery Gardens (-2.45%), Dubai South (-12.9%), Silicon Oasis (-8.05%), and International City (-5.67%) all seeing prices decline over the last year.
While Q3 2020 was dominated by domestic end-user demand in the wake of lockdown, Q3 2021 has seen a move in the market towards investors, both locally and internationally. Of the new transactions agreed at Bettehomes in Q3 2021, 62% of successful buyers identified themselves as investors, up from 51% a year ago.
Residential Leasing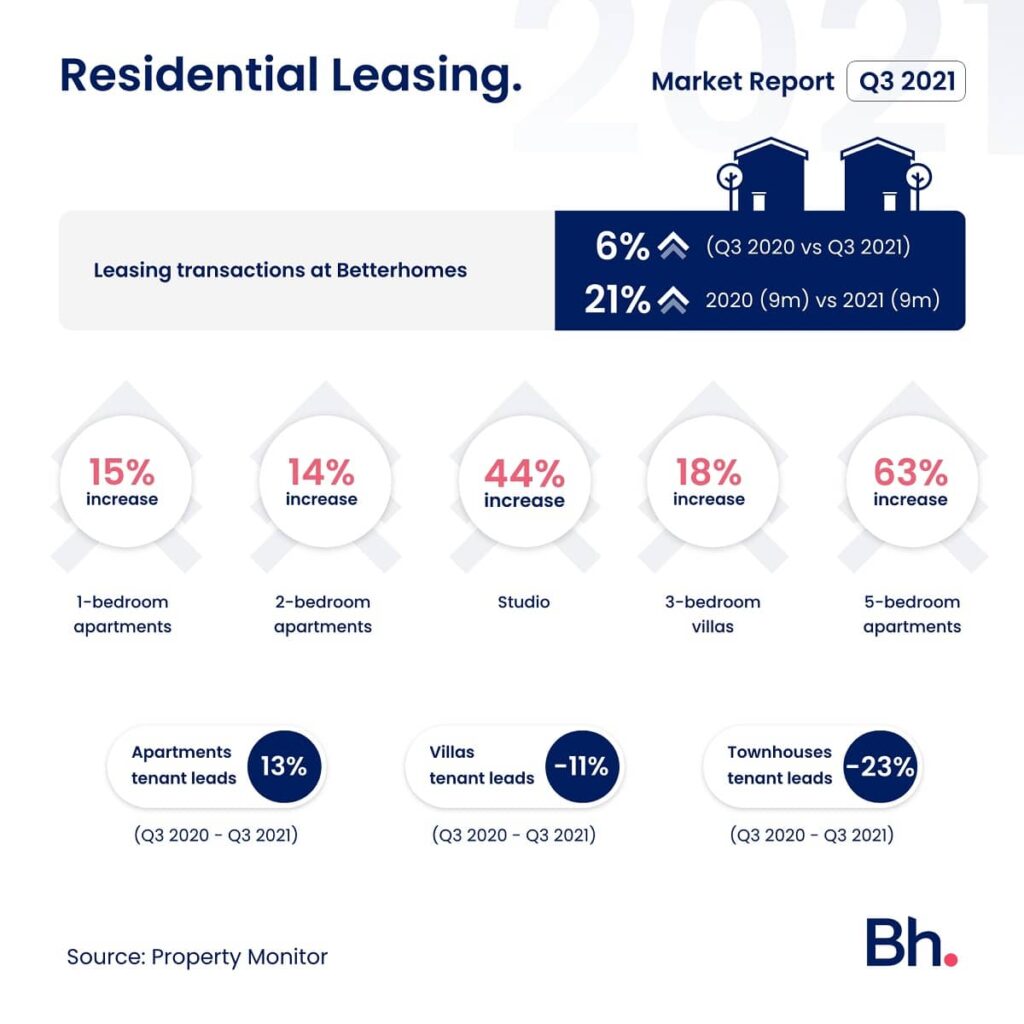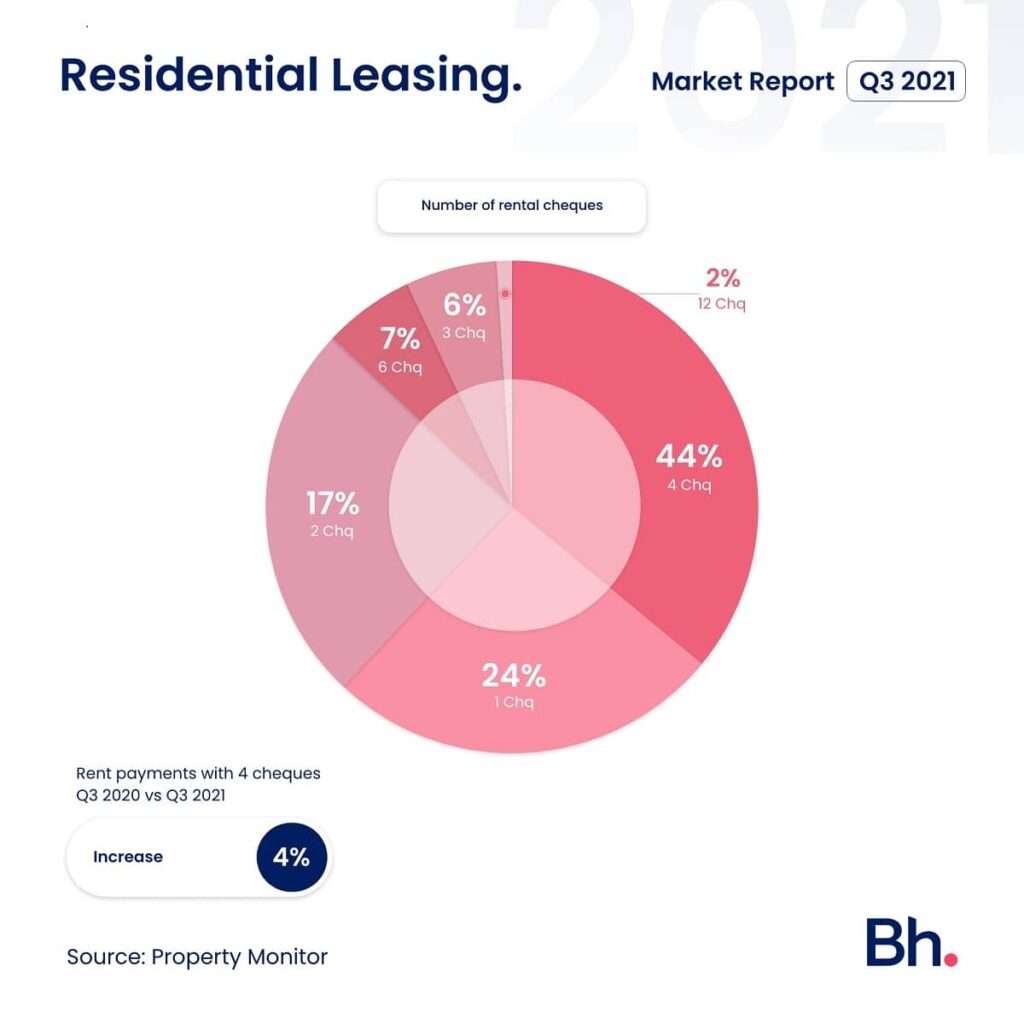 Buyers seeking to upgrade their homes but outpriced in the current secondary market are eyeing new developments with lower prices and favorable payment plans offered by many developers. Buyers in Dubai are certainly turning more towards off-plan investments, with the number of off-plan transactions increasing from 39% to 45% QoQ. Transactions are set to reach the pre-pandemic level of 57% recorded in Q3 2019.
At Betterhomes, leasing transactions are up 21% for the year, 6% up over the summer months. While many new tenants coming to the market will look at well-established apartment communities such as Downtown Dubai, JBR, or the Marina, there is a growing number of high net worth professionals and business owners relocating to Dubai, which increased the number of rentals for villas with over 5 bedrooms by 63%.
In September, Betterhomes recorded their highest ever annual rental deal, a villa in Emirates Hills leased at AED1,850,000 to an ex-pat who recently arrived in the UAE.
When it comes to apartments, the most popular communities among tenants at Betterhomes were Dubai Hills Estate, with the highest number of transactions, followed by Dubai Marina, which usually holds the number one spot when it comes to tenant leads and transactions. The most sought-after villa community among tenants in Q3 2021 is The Springs, followed by Al Barsha and Jumeirah.