The public can now visit SeaWorld Abu Dhabi, a theme park featuring aquatic life, as of today, May 23, 2023. The latest family-friendly attraction in the UAE is covered in detail here.
What is SeaWorld Abu Dhabi?
The park is a magnificent structure that spans five indoor levels and boasts over 150 species of marine animals. From the majestic sharks to the colorful schools of fish, manta rays, sea turtles, reptiles, amphibians, and invertebrates, the park is a haven for marine life enthusiasts. Additionally, the park is home to hundreds of birds, including puffins, murres, flamingos, and many more.
One of the park's most impressive features is the world's largest multi-species marine life aquarium, which houses over 68,000 marine animals. The aquarium is a sight to behold and is sure to leave visitors in awe.
The park is divided into eight sections, each referred to as a realm. Each realm has a specific focus, from the Abu Dhabi Ocean, which provides insight into the unique Arabian Gulf marine ecosystem, to the Arctic, the tropical ocean, and Antarctica. Visitors can explore each realm and learn about the different marine life that inhabits them.
In addition to exploring the different realms, visitors can also feed birds, rays, and sea lions. The park also offers dolphin and sea lion presentations, which are sure to be a hit with visitors of all ages.
Overall, the park is a must-visit destination for anyone interested in marine life. With its impressive aquarium, a diverse range of marine animals, and educational exhibits, the park is sure to provide a memorable experience for all who visit.
Ticket prices
General Admission
Dh375 for adults




• Dh290 for a junior ticket
As per the official SeaWorld website, the junior ticket is designated for children who are up to 1.1 meters (3.6 feet) tall. Additionally, children who are three years old or younger can enter the park for free.
To purchase tickets, simply visit seaworldabudhabi.com.
If you're interested in exploring other theme parks on Yas Island, such as Ferrari World or Yas Waterworld, you can take advantage of discounted passes like the three-park pass or an annual pass. These options provide a great opportunity to experience all that Yas Island has to offer.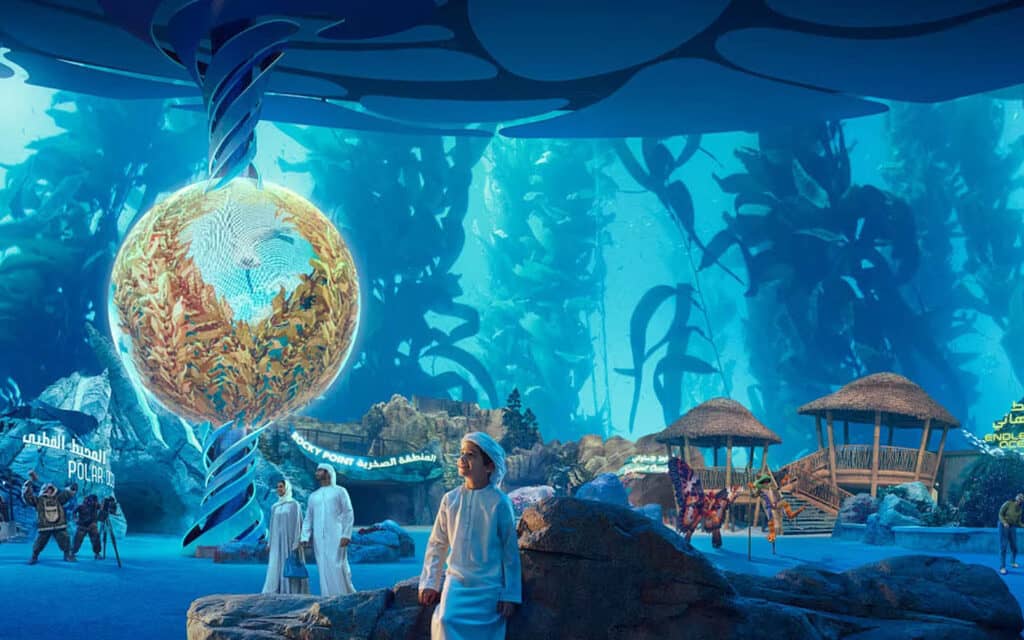 How to get there?
SeaWorld Abu Dhabi is located on Yas Island. Here are all your options to get there:
Free Shuttle Bus from Dubai to Yas Island
To access the complimentary shuttle bus service in Dubai, you may choose from the following convenient locations:
Deira City Center, adjacent to Majid Al Futtaim Tower 1

Sheraton Mall of the Emirates Hotel, Dubai
Please note that Seaworld Abu Dhabi mandates the presentation of your e-tickets or vouchers at any of the Yas theme parks to board the bus. The shuttle operates on a first-come, first-served basis, and no prior reservation is necessary. Please be advised that arrival and departure times are approximate due to traffic conditions.
Free Shuttle Bus from Abu Dhabi City (Route B) to Yas Island
Abu Dhabi Shuttle Buses stop at two locations on Yas Island:
Warner Bros. World™ Abu Dhabi and Yas Waterworld




• Ferrari World Abu Dhabi and CLYMB™ Abu Dhabi
Arrival and departure times are approximated due to traffic.
Free Yas Express shuttle bus service within Yas Island
A free express shuttle bus service also takes visitors around the major attractions on Yas Island.
Driving to SeaWorld Abu Dhabi
To reach the park by car, your best bet is to head towards Yas Island. If you're currently on E12, Sheikh Khalifa bin Zayed Street, simply take the exit for Al Maha Street. From there, continue on to Al Ibreeq Street, which will lead you straight to the main parking area of SeaWorld Abu Dhabi. It's a straightforward route that will get you to your destination with ease.
Also Read: You need to save these 19 telephone numbers in Saudi Arabia if you are a tourist or resident