It surprises many people that Dubai – a city renowned for its warm and humid climate – can receive snowfall year-round? As the world's third-largest indoor ski resort, Ski Dubai maintains a constant temperature of -4°C throughout the year. It is located within the Mall of the Emirates, one of Dubai's most popular shopping malls.
About Ski Dubai In Mall of Emirates
The indoor skiing facility with 22,500 sq m of space opened to the public in November 2005. The experience is considered to be one of the most adventurous things to do in Dubai. The adventurous resort features an 85-meter mountain top which is as high as a 25-storey building! The Mountain Thriller ride will take you up to 46 kilometers per hour! In the park, climbing up to that mountain top is a popular thing to do for visitors.
In the heart of the desert, you can admire 6,000 tonnes of snow, by hopping on the chair lift or leaning against the T-bar.
Activities In Ski Dubai
Ski Dubai offers many activities for winter sports enthusiasts. There is an option to learn just the basics of skiing or to train with expert trainers who will help you jump off a 10-foot ramp! The park has a freestyle zone where you can practice. In addition to skiing, Ski Dubai provides a wide array of activities. A Snow Penguin package offering skiers the opportunity to meet the penguins is also available here. They also have a Snow Park filled with fun activities. The following are a few of the amazing things you can do at Ski Dubai:
1. Skiing On The Slopes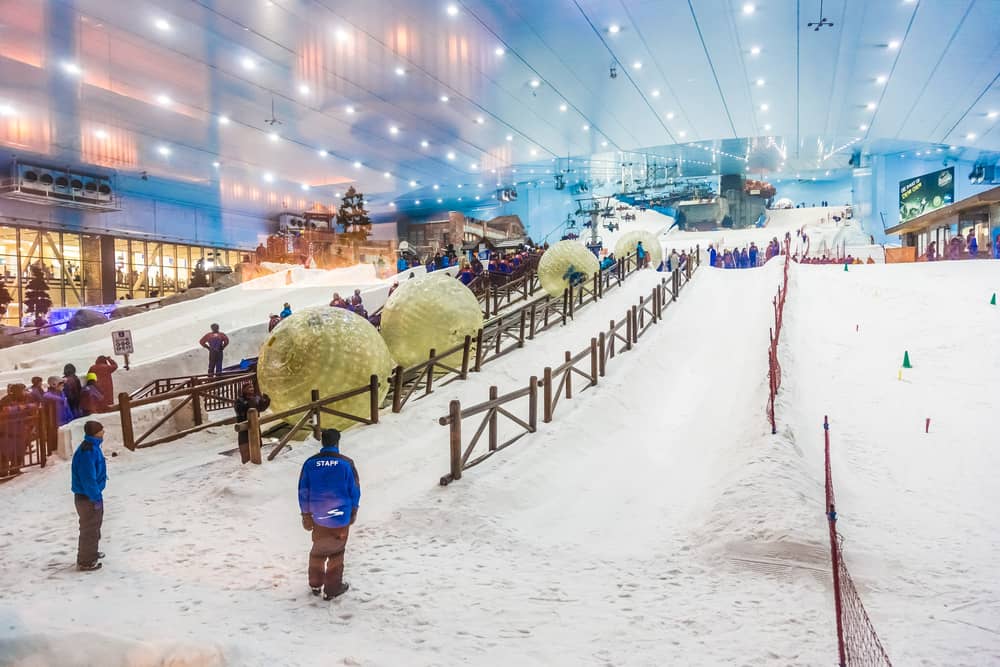 To experience the thrill of skiing at the Mall of the Emirates Ski Dubai, start by heading to the slopes. Whether you want to explore the i slopes alone or with friends, you can join the Ski School. Whether you're a child or an adult, you can get trained in one-on-one sessions by a qualified instructor. In a secure-yet-fun environment, the ski school allows you to improve your skiing skills.
You can select from five slope packages (based on the difficulty level and length of each). Each Ski Dubai ticket price listed below includes outfit/equipment rental and lockers for adults and children.
Two-hour Slope Pass (AED 210)
Full-Day Slope Pass (AED 310)
SkiFly Slope (AED 305)
Snow Plus Slope (AED 340)
Snow Premium Slope (AED 490)
2. Exploring The Snow Park
In this 4,500 square meter snow park, you can toboggan or sled and make your very own snowman. The ice cave or tower can also be explored.
Here are your options for Ski Dubai tickets so you can experience the Snow Park:
Snow Park (AED 190)
Snow Classic (AED  256)
Ski-Fly Snow Classic (AED 305)
Snow Plus (AED 340)
Snow Premium (AED 490)
3. Meet The Penguins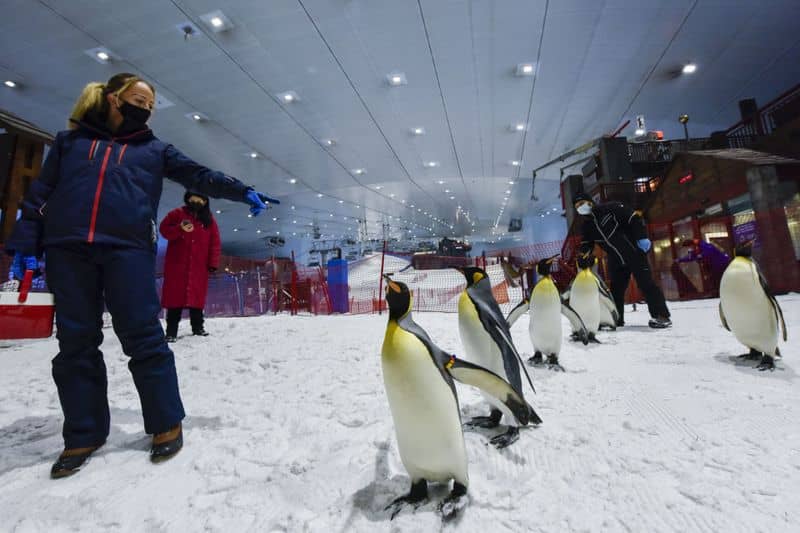 A good part of Ski Dubai is that it offers more than just skiing opportunities. Apart from enjoying the snow, visitors to Ski Dubai can see one of the most fascinating birds in the animal kingdom – the penguin. You can even take a photo with the penguins in Ski Dubai since they are quite comfortable around humans.
In Ski Dubai, the penguin encounter is one of the most popular activities for both children and adults. Take your pick from the following packages. Meetings for penguins are held every 30 minutes starting at 12:00 pm and going until 9:00 pm.
Peng-Friend Encounter (AED 230)
Snow Plus – Penguin Encounter (AED 520)
Ultimate Peng-Friend (AED 890)
Swimming with the Penguins (AED 1,390)