A grand cultural spectacle, The Global Village is one of Dubai city's most anticipated family entertainment events. Global Village brings together travelers and visitors from all over the world to enjoy a plethora of shopping and entertainment facilities. The global village held its 23rd season of colorful events in Dubai in 2019.
The weather in Dubai is generally pleasant and comfortable during the time the event is being held. Combined with the fact that you have the chance to try a wide range of culinary experiences all in one place, this makes the global village an international success, and it is worthy of all the attention it gets.
An international village hosted by Dubai is an exciting event where different nations set up their pavilions, offering visitors a true sense of culture, shopping, food, and much more. The pavilion is for each nation, where visitors can find a display of their unique offerings, easily taking them by joy and excitement.
This region is home to thousands of retail outlets where visitors can pick up a range of products and specialties on an international scale. Several fun activities are available for adults as well as children, including a theatre and ride. During the past several seasons, the guest happiness index has constantly been above a perfect score of  9 on a scale of 1-10. The next seasons are expected to do even better.
In fact, people plan their trips to Dubai specifically around the time of this festival, which proves the popularity of the place. The global village gives nations an opportunity to showcase themselves and to introduce themselves to new people. Visitors who arrive here never leave empty-handed, for this global village provides them with memories to cherish for a lifetime.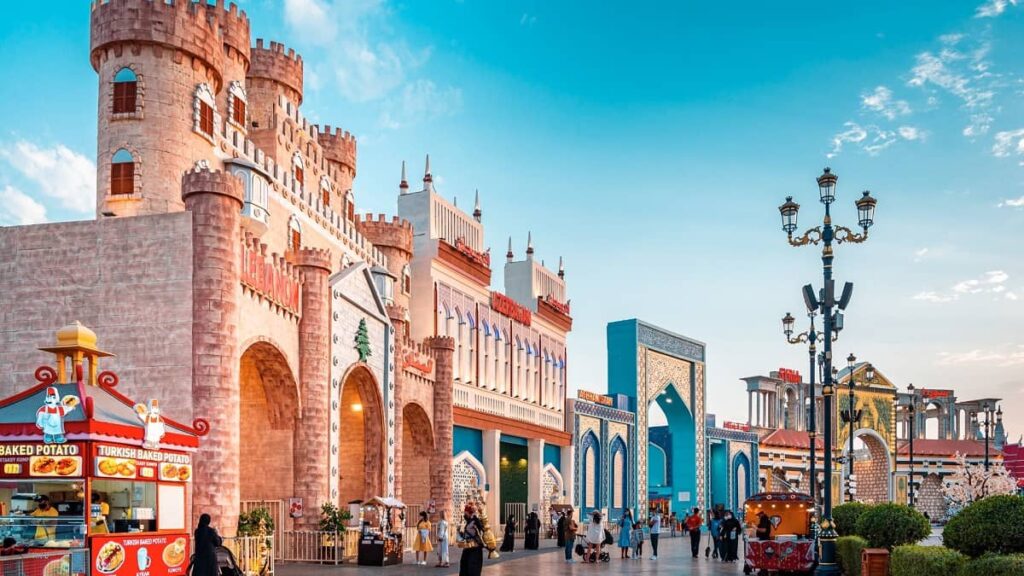 At Global Village Dubai, you can see 25 pavilions representing 78 nations around the world. These pavilions include Turkey, Pakistan, AlSanaa, Europe, Khalifa Foundation, Americas, Thailand, Palestine – Jordan, Lebanon, Azerbaijan, Afghanistan, Syria,  Japan, South Korea, China, Africa, Egypt, India, Saudi Arabia, Morocco, Iran, Yemen, Bahrain – Kuwait and, of course, The UAE. New for this year are Russia, Cambodia, and Vietnam.
In addition to the pavilions at Global Village, visitors can check out the heritage village and a stage that hosts daily stunt shows, kids' theater, and a mission speed stunt show. You can see fire fountain shows, enjoy street food as you walk along Kiosk Street, find Indian chaats at a chaat bazaar, and explore the floating market. The carnival area also has plenty of rides.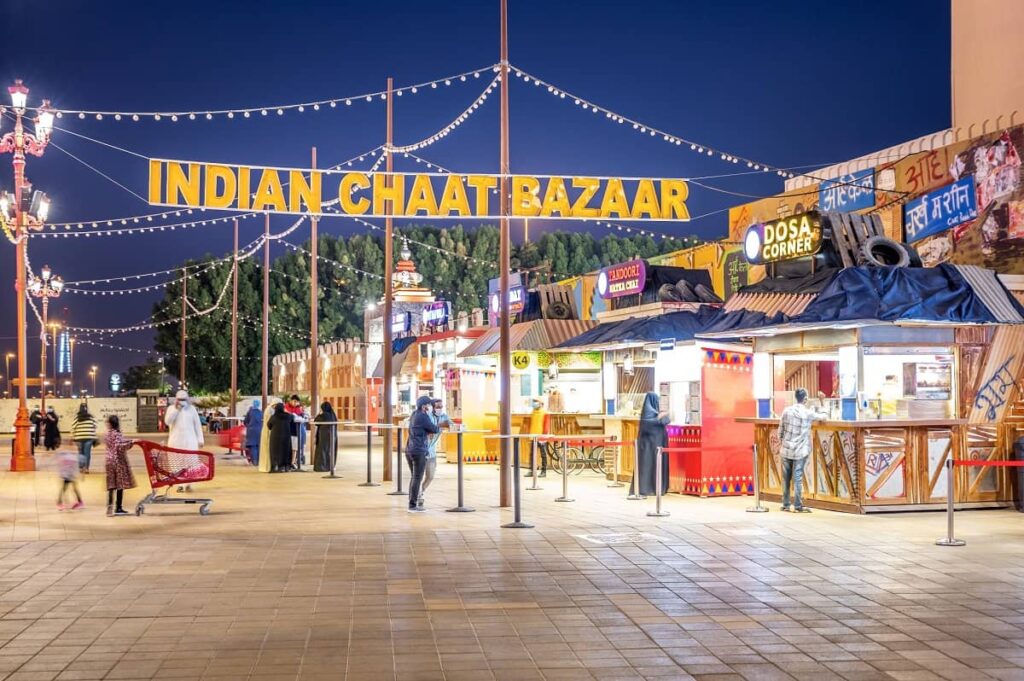 A collection of strange natural, scientific, artistic, and human oddities can be found in Dubai's Global Village. This is the first place of its kind in the Middle East, where visitors can see human and animal exhibits, shrunken skulls, mind-blowing visual illusions, and plenty more bizarre and wonderful items. It includes six themed areas, as well as a mirror maze. The entire experience takes around an hour, so plan your trip around it.
Want to see what the global village has to offer? Here is your list to complete your trip-
You can see the world in one day:

With over 30 pavilions lined up, you have the opportunity to see multiple nationalities on one day. There is no other event in the world that offers a chance to experience all of these cultures in one day.

Experience live shows and performances:

You will have the opportunity to witness international singers performing their hits at this event from around the globe. Having all the performances live with great lights and sound greatly enhances the fun.

The event also features a monster stunt show, a haunted house, and much more: Prepare yourself for an event filled with adventure and adrenaline. In addition to the live street performances, you will be able to take part in some of the live escape games and shows.
Enjoy the Fantasy Island:

The latest addition to the global village is Fantasy Island, with its ultimate entertainment for the whole family. There are enough rides in this park to win your heart. There are plenty of activities for your little ones to enjoy.

Don't forget to bring your shopping bags:

In a place full of such a variety of cultures, traditions, and ethnicities, it is hard not to find something to buy. Every nation brings a selection of selective goods to show its visitors, and guess what, you can take as many as you like.

Enjoy the cuisines of many nations:

Visit any pavilion and find their local culinary offering where you can get a taste of the unique delicacies of that nation. Taste a variety of foods from all around the world at this event! Your stomach might get fussy!

Revel in the display of fireworks:

Twice a week, you can enjoy the spectacular display of fireworks, which is not ordinary in any way. It is a wonderful experience to watch these fireworks in awe and joy.

Get a feel for Emirati art:

Programs such as the 'Live our heritage festival' and many more will allow you to experience the traditional era of Dubai. On display, there are both traditional and modern arts, that truly reflect Dubai's old culture and history.
Timings: 

Saturdays to Wednesdays: 4 pm to midnight

Thursdays and Fridays + public holidays: 4 pm to 1 am

Mondays: Global Village Family Day + ladies only.

Opening Date: October 26, 2021
Closing Date:  April 10, 2022