Shoppers will find Dubai to be a true paradise. In terms of fashion, perfumes, accessories, and jewelry, the city is home to some of the most popular brands and designers. Aside from Dubai's renowned shopping malls, the city's traditional souks are equally popular with locals and visitors. There are many hidden gems and rare finds in these old souks in Dubai, often at unbeatable prices. Among the most popular souks is Deira Gold Souk, the largest gold market in the world. It has more than 300 shops.
Even though it contrasts starkly with the glitz and glamour of modern-day Dubai, it still attracts hundreds of tourists. Deira Gold Souk is renowned for the exquisite craftsmanship of its jewelers. In the Deira Gold Souk, some jewelers have been in business for several decades. There is therefore a huge selection of gold and precious gemstones here, so visitors will find among the best ones.
In Dubai, it's very popular with ex-pats and visitors, some of whom come specifically to buy gold, whether it's to add to their everyday jewelry collection or to splash out on something special. There are several reasons to buy gold in Dubai, including the variety of choices, the cheaper prices, and the quality.
The reasons to visit the Deira Gold Souk?
If you're visiting Dubai, don't forget to visit the Deira Gold Souk. There are plenty of stunning pieces of jewelry in the shop, so even if you don't plan on buying gold, a trip there is still worth it.
Shopping at the Deira Gold Souk
There is an astounding variety of jewelry to be found in Deira's Gold Souk. A wide variety of retailers offer jewelry, some of which features designs from around the world. Malabar Gold and Diamonds, Bafleh Jewellery, Joyalukkas, and many other smaller stores sell jewelry in the Deira Gold Souk. There's something at Deira Gold Souk for every taste and budget, including elegant rings, delicate bracelets, grand necklaces, and pretty earrings.
A certificate of authenticity and purity of the gold is provided by the UAE government for all items sold at gold souks in Deira.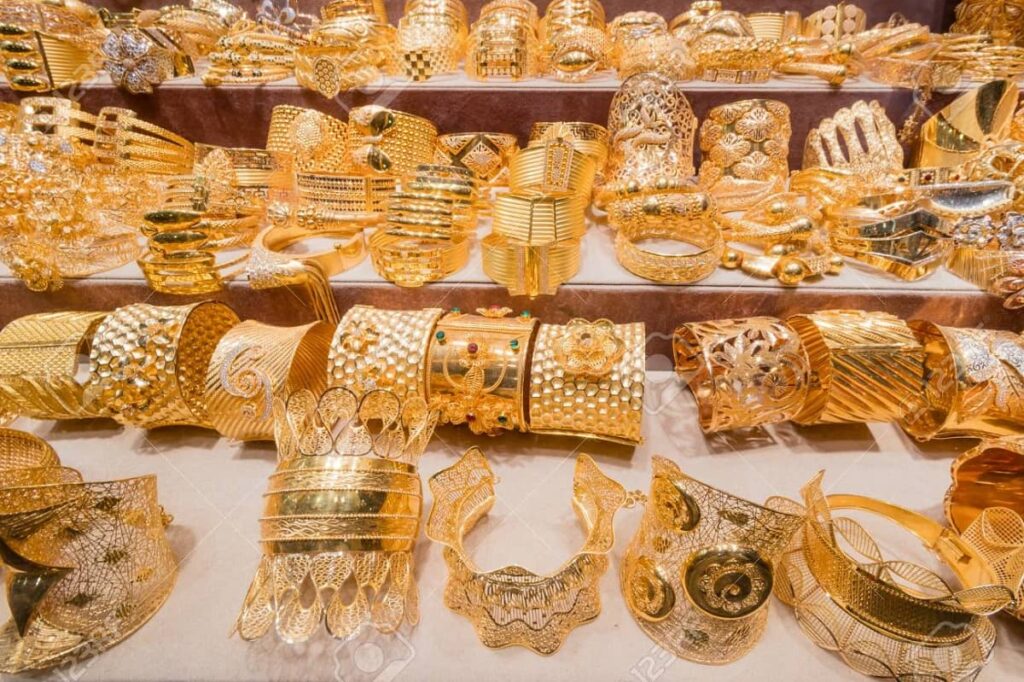 How to buy gold from Dubai's Gold Souq?
You have more than 400 outlets to choose from at Gold Souk, and they all compete to get your money. Designs are unlimited, and there is no need to rush. As it is controlled by ESMA (Emirates Authority for Standardization and Metrology), the purity is the same everywhere.
Steps to follow:
Make a decision about what to buy 

Check the availability of designs.

Ask for the price. They usually charge you the retail price of gold plus making charges.

It's time to bargain. It is always a good idea to check other shops. Before you give up, there are plenty of shops waiting for you.

Be sure to take a copy of the purchase receipt after the deal is struck.

Ask about any special offers/gifts/raffles, and take advantage of them.

No tax applies to gold and diamond purchases, so leave with a smile.
Souk Timings:
The shop timings for the God Souk are 9.30 am to 9.30 from Sat to Thursday. On Fridays, the gold timing starts at 4 pm.
The Gold Souk's location:
Al Ras Deira. The souk is adjacent to the Dubai Fish and Vegetable Market and the Deira Corniche near Baniyas Square at Sikkat al-Khali Street.
How to reach Gold Souk:
 There are several ways to reach the Souk of Souks. From Dubai Museum, take the water taxi across the channel in 20 minutes and you'll be there. Prior to the oil boom, Dubai traveled in this manner, and the tradition continues today. From Bur Dubai, you can find many office workers, shoppers, and tourists using the little wooden boats called "Abras" to reach Deira.
Currently, the Dubai Government offers a conditioned abra with better seating called "Water Taxi." Other types of transportation can be used to get to Dubai Gold Souk, including buses. One of the most important bus stations is located here, appropriately named "Gold Souk Bus Station."
Map location: Map
Interesting fact:
 One of the highlights of the Gold Souk is the Najmat Taiba, or Star of Taiba, the heaviest ring in the world. There are 5.17 kg of Swarovski stones mounted on this gigantic ring, which is 314 grams shy of 57kg in weight. This gold ring has been certified by the Guinness Book of Records as having the world's heaviest gold weight. It was endorsed by the World Gold Council and designed by Taiba Gold and Jewellery of Saudi Arabia. Approximately Dh2.2million is its value.

There is also an ATM at Dubai's gold market that pays in various forms of gold-be it bars, coins, or wearable gems.

Every day, the Gold market in Dubai sinks ten tons of gold. The nearby souks in Dubai are a must-see for both tourists and locals, and they sell the world's cheapest gold ornaments.

 You can buy strange things in Dubai's shops for sale as well. It's unlikely that you saw such a wide variety of gold items in gold shops, such as belly dancing outfits, fancy headscarves, and Kafiyahs and sunglasses.

One of Gold Souk's jewelers made the longest gold chain by hand, breaking the Guinness World Record in 1999. Jewelers made a gold chain that was 4.2 kilometers long made of 22 karat gold.