Why not begin your exploration of the UAE with Ajman, the smallest emirate? Ajman is renowned for camel races, kayaking, cultural experiences, and a tonne of family-friendly activities, while other cities like Dubai dazzle tourists with their towers and opulent stores. Here is a list of some of the top tourist destinations and activities in Ajman.
Re-live History and Explore the Culture
Visits to historical buildings and museums that document emirate life in the past are among the best things to do. Here are some historical sites in Ajman to check out in light of that.
VISIT THE AJMAN NATIONAL MUSEUM
The Ajman Museum, also called the Ajman Fort, was formerly the ruler's palace before being transformed into a museum and made accessible to the general public.
The numerous artifacts on show here, which include jewelry, pottery, tombs, and other objects dating as far back as 3000 BC, will appeal to history lovers.
The objects that were unearthed are from Al Muwaihat, one of the most renowned archaeological discoveries in the UAE. Although there is an archaeological site nearby, the Al Mowaihat today has villas available for rent.
Timings:

Saturday to Thursday 08:00 am – 08:00 pm | Friday 02:30 pm – 08:00 pm

Location:

Central Square, Al Bustan

Contact:

+971-6-711-6675
VISIT MASFOUT CASTLE
The tower-shaped Masfout Castle was built in the eighteenth century. The castle, perched atop the Hajar Mountains, served as the last line of defense against outlaws traveling toward Oman, a nearby nation. The castle, which is located southeast of the city of Ajman, was brought back to life in the late 1940s and is today a well-liked tourist destination.
Activities for Kids in Ajman
EXPLORE THE UAE PYGMY ZOO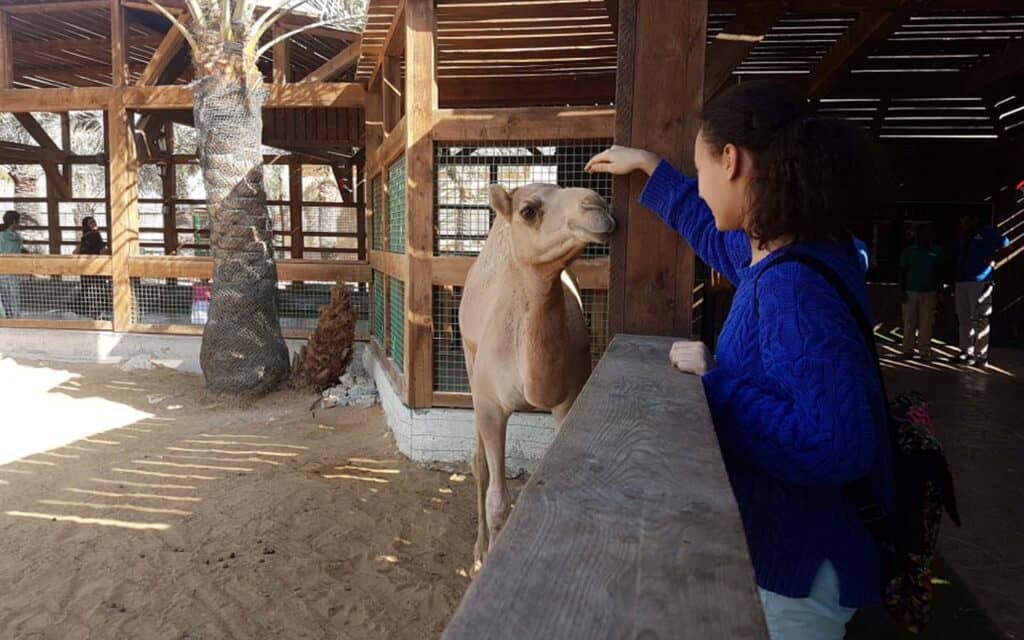 The UAE Pygmy Zoo is a groundbreaking tourist destination in Ajman. Its popularity among families with young children makes it one of the most well-liked family-friendly activities in Ajman. Kids can play outside while learning about diverse animal, bird, and reptile species. This petting zoo offers a wide range of activities, such as animal encounters, pony and camel rides, and playing with cute and incredibly amiable puppies.
Timings:

Monday to Thursday 03:00 pm – 10:00 pm | Friday to Sunday 03:00 to 12:00 am

Tickets:

AED 5

per person

Location:

Al Zorah Marina 1
VISIT A WATERPARK
Families in Ajman typically travel to Funtastico Splash as the weather warms. The park does offer other options besides those that include water, though. Slides, bounce houses, and games like the Super Jumper and Trampoline with an airbag are a few examples of activities that both children and adults will enjoy.
Other activities include a cruise along the Al Zorah Marina shoreline and the chance to rent bikes so that families can ride together. Additionally, the park holds contests to amuse families. Funtastico Splash, one of the top family-friendly attractions in Ajman, ought to be on your travel itinerary.
Timings:

03:00 pm – 11:00 pm

Tickets:

From AED 50

Contact:

+971-6-531-0053
Also Read: Discover Dubai's new tourist attractions
VISIT PARKS IN AJMAN
Kids adore parks, and Ajman has a tonne to choose from. Parks are excellent places for children to run around and have fun on a budget. Particularly in Ajman, parks are brimming with facilities for families, including playgrounds, designated grilling places, bike rentals, restrooms, and other advantages.
The Al Jurf Park has a sizable play area, restrooms, canteens, and a jogging path. So, if you're seeking for family entertainment, check out these public areas.
VISIT A LADIES-ONLY PARK
The Mushairef Ladies Park in Ajman, which attracts many of female residents and visitors, is only open to women and kids. The park is a wonderful outdoor gathering place for women to mingle and provides mothers with a safe spot to play with their children. It is clean and well-maintained. For those seeking more calming activities, the location, which is located on Al Safiya Street, is a perfect spot to decompress.
Enjoy Great Outdoors
Ajman may have experienced that feeling of being "undiscovered" a few years back. But the emirate has become a popular tourist destination thanks to the abundance of recently provided outdoor recreational opportunities. Some of the greatest ways to enjoy the outdoors in the region, aside from the numerous tourist attractions in Ajman, are as follows.
VISIT AL ZORAH NATURE RESERVE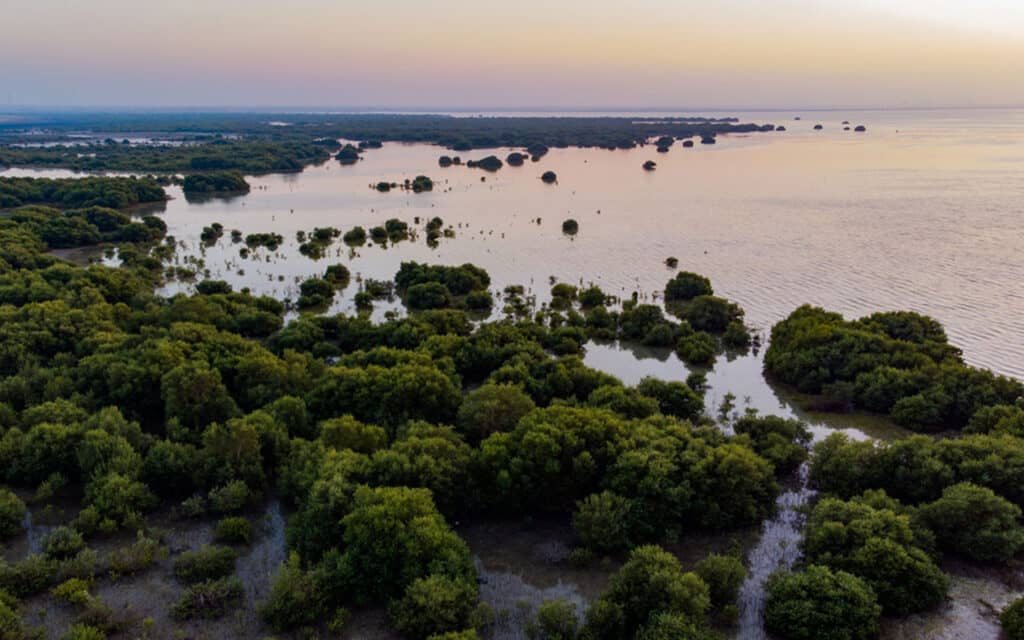 Al Zorah Nature Reserve is a lively ecosystem of blue lagoons, mangroves, and sandy beaches and is home to about 60 species of birds, including the egret, pink flamingo, and heron. The location is ideal for watersports, with seven kilometers of waterfront and two kilometers of tidal stream and beach.
Kayaking is the greatest way to discover the reserve's gorgeous mangroves. The activity is suited for novice kayakers as well because of the extensive network of canals and calm waters. The adjoining 18-hole Championship course at Al Zorah Golf Club is also open to golfers. The reserve, which is situated north of the emirate, is also a recent housing development.
HIKE IN MASFOUT
The mountain wadis and enclaves are a few of the numerous undiscovered outdoor recreation opportunities in Ajman. The region, which is in Masfout, is quickly gaining popularity with hikers looking for things to do in Ajman.
Masfout is a tiny landlocked settlement encircled by the Hajar Mountains. The area's high altitude makes it ideal for hiking, and the untamed landscape provides something to look forward to for nature lovers. The region is accessible from Dubai approximately 90 minutes by car and is situated southeast of the city of Ajman.
Before you leave, make sure you are equipped with the appropriate items. We advise staying away from the area from June to September when the heat is at its worst for a comfortable experience.
CAMPING AT CARAVANA
Camp out in style? Make your way to Caravana Al Zorah. The lovely campsite in Ajman offers roomy, fully equipped caravans that can be reserved for visitors. It is situated directly by the shore.
The beachside campground, also known as the Caravan Beach Resort, saves campers from having to set up their own equipment. Kayaking, quad biking, and horseback riding are among the several activities available at the location.
Other benefits include a Jacuzzi, BBQ grills, and outdoor seating near the beach. In addition to providing overnight accommodations, Caravan has a variety of size-suited caravans for families, couples, and parties.
AJMAN BEACHES
The beaches in Ajman are among the best places to have fun. Some of the most beautiful beaches in the UAE are found in this emirate. The emirate's coastline is lined with beach resorts, each of which offers visitors a private cove of the sea and fine sands.
By purchasing a day pass, guests can use the resort's amenities, including private beaches. Alternatively, you can visit the nice arc of public beaches that encircles the town.
Watersports
Water sports are among the most well-liked activities in Ajman due to its proximity to the ocean. Visitors have a wide array of options thanks to local tour providers' offers. Numerous water-based activities are available, including kayaking, jet skiing, and banana boat rides.
Fans of water sports can anticipate a new Watersports Center in Al Zorah. The facility will include a variety of motorized and non-motorized sports, including wakeboarding, jet-skiing, and others, once it is accessible to the public. Additionally anticipated are events like the Best Underwater Photo Competition, Stand-Up Paddle Boating Championships, and Jet-Ski Acrobatic Displays.
Fishing
Fishing is one of the lesser-known activities in Ajman. There are numerous places along the extensive coastline where people can cast their lines and wait for a meal while taking in the sea air.
However, keep in mind that the UAE government protects the country's fishing resources and that people are only permitted to engage in the activity if they possess a specific fishing license. The area surrounding the Kempinski Hotel is one of the best places in the emirate to go fishing, with the ideal times being early in the morning and three hours before sunset.
You can also choose to go on a deep-sea fishing adventure in Ajman, which is provided by authorized local vendors and is open to both individuals and groups.
Other Things to Do in Ajman
Apart from the mentioned places and activities, other activities are as follows.
VISIT AJMAN CORNICHE
The four-kilometer-long Ajman Corniche is an esplanade that offers views of the Arabian Gulf. The Corniche is a great destination for families because of all the eateries and cafes that line it. Additionally, this is where the majority of Ajman's festivals and social activities happen.
Swim in the protected tidal pool or take a leisurely stroll down the coast while you take in the magnificent sunset. Weekends are when the area really comes alive. If you see locals having picnics and barbecues on the beach, don't be shocked.
Simply go to one of the eateries if you get hungry. Among others, we propose Sultanate, Café Naseem, and Sabella's as some of the top eateries at Ajman Corniche.
SHOP TO YOUR HEART'S CONTENT
Ajman is home to a number of shopping centers, the largest of which is City Centre Ajman. There are various food, shopping, and entertainment opportunities at the City Centre mall.
There are several places to eat, including cafes, restaurants, and well-known fast food outlets like Hardee's and Pizza Hut. The Safeer Mall on the Ajman Corniche, Dana Mall, Galleria Mall, Grand Centrale, and the Ajman China Mall are some of the other well-known shopping centers in Ajman.