Is your vehicle registration due for renewable? Are you looking for your vehicle registration? These steps provided will let you know all the required details:
(The main point to remember is that in order to renew your car driving license and registration, you must have a valid UAE, residency visa, passport, and Emirates ID.)
With the help of your Emirates ID or UAE PASS details one can register with the Ministry of Interior app
In order to register on the ministry of the interior app follow these steps
Provide the Emirate ID number
The system will fetch the mobile number linked with the emirate id, you can check if this is the correct mobile number and also you can edit or change the number in this process, once done you can ask for OTP and the system will send the OTP to the selected mobile number.
Then you will have to select and provide your details like email address, username, and password.
Cost:
The total cost for vehicle registration renewal is Dh365(Dh350 for the vehicle registration renewal + Dh15 delivery)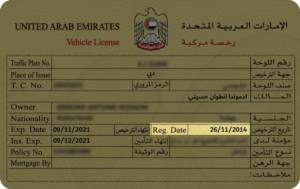 Vehicle registration renewal steps
Login to the Ministry of Interior App – MOI UAE
You can find the  'Traffic services' in the service catalog, under which you can get 'Vehicle services' and by clicking on this you can find 'Renew vehicle registration'.
Sometimes there are some restrictions, then those lists would be shown and you would need to fulfill them in order to proceed.
These contain:
-Vehicle insurance
-The report of vehicle inspection in order to know if the car or the vehicle is older than 3 years.
-Traffic fines
All the transactions can be done within the application.
So in order to get this done, you will have to upload the inspection report and insurance details and also the fines which are due.
Once done with all these steps the total amount will be shown to you now fill in your address and then click on "Next"
The application will take you to the payment gateway.
Now you can make the payment and then you will receive a payment receipt.
After the process, your vehicle registration card will be provided to you at your UAE address.
Fines:
If you will be found driving a car without valid registration, the violator will be charged Dh500 along with 4 black points which will be recorded against their license. The vehicle will also be impounded for seven days, as per Article 25B of Road Traffic Law (driving a vehicle with an expired license).