Dubai: Dubai is a place where everyone dreams of getting a job and living there. So once you complete the first step i.e. finding a suitable job for yourself now it is the time of finding a house where you can live. Dubai has everything you want based on your budget and needs i.e. from a villa to a studio.
And the best thing about this city is that you are safe and you can stay anywhere in the city which gives you more options of finding a place of your choice.
So, keeping in mind what is your need in renting a house i.e. either you want a villa or a studio let's get into it:
These are the four main points which you have to keep in mind while hunting for a house in the city:
Budget: this is the first and foremost point to consider in order to rent or buy an apartment in Dubai, as the search and everything depends on your budget.
Transport: are you going to drive your own vehicle or you are going to use public transport.
Facilities: What all premises you want in your daily activity like gyms, pools, etc.
Amenities: Is easy physical access to supermarkets and eateries important to you?
Consider all these points, these will make it easy for you in order the choose your house.
Step 1:
You can check the houses on the house listing provided on the internet or the printed on, or else you can check each building of your choice individually or even speak to the concierge, and community boards in supermarkets.
And also there are several websites online that will help you to find a house and got to deal with the landlord or the registered broker directly in order to lease their property.
https://www.propertyfinder.ae/en/rent/properties-for-rent.html
https://dubai.dubizzle.com/en/property-for-rent/
https://simsari.ae/en-us/Search/Rent
https://getthat.com/property/rent
Most of these sites also give you the feature of selecting the budget and the size of the house you want to rent.
And also keep in mind that most of your expenses will be just for the rent. Many single people in UAE opt for finding single bedroom apartments or studios that are located near malls, public transport, restaurants, etc.
But you have a big family you can always go for four to five-bedroom apartments or villas.
Step 2:
Once you shortlist the houses it is always better to go for a site visit to that place with your real estate agent and check if it fits you and for more you can select a date for weekends to visit that place in order to know the vibe of the place in weekends. 
Or even you can have a discussion with the people around you asking them about the place and getting their ideas and thoughts over it.
And once you have physically visited the apartment then go on checking these points:
Check the apartment fully i.e. if there are any broken floors, tiles, etc in the house.

Is it spacious enough for you to live in?

Enquire about the cameras, security guards and other safety measures.

 

Check on the maintenance available – is it by the landlord or the tenant?

Ask if the water tank is cleaned every 6 months.

Check for parking

As almost every property is providing a gym and pools etc but still you need to check if they are clean or not.

And, most importantly, ensure that your real estate agent is registered with the Real Estate Regulatory Agency (RERA). Ask for their broker number.
Step 3:
Now once you have check all the above steps and the apartment fits well into your choice then you can go for the bargaining process and also this bargaining is acceptable there so you must try your best in order to get the best price for that apartment. You can also test the traffic on your route to the office during office hours.
And also if you have a pet or you are planning to get one then you must ask the landlord or the broker about it.
And also tenancy of apartments is mainly on an annual basis so think twice over the property before purchasing it. Canceling a contract before completion could incur losses for you.
And also if for the reason you do not know for how long you will stay there then you must consider going for short term renting in hotels. 
Or if have made the mind of renting a certain villa or apartment then you can book that apartment by giving the security fees to the landlord or broker(which is usually one month rent).
If you back out of the deal for any reason, the security deposit amount will be retained by the landlord.
The documents which are required are:
Passport copy

Residence Visa copy
Points to keep in mind:
Always have the pictures of the vacant apartment in order to get the security money from the landlord or broker by the end of your tenancy agreement.
Please get a copy of the Title Deed of the property, you will need it for Ejari in Dubai.
And also make sure if all the dues on the property are clear so that it might not cause any problem to you in the future.
Steps for signing the tenant contract:
The contractor will give you the contract for that property

Read it carefully and then sign

Submit it to the contractor along with the security check

Always ask for a copy from the contractor

Now the contract will be signed by the contractor and then he will provide you a copy of the contract along with house keys, access cards and anything else required.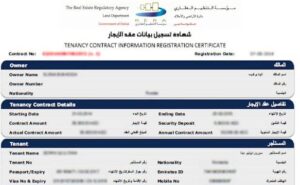 Once all these processes are done now is the time for you to register with the Ejari.
Ejari is an online platform where everyone has to register for the property even all the brokers and landlords have to register there for every property.
This regulatory system is established to protect the rights of everyone involved in rental deals: https://ejari.gov.ae/
Upon completion of the registration process, the applicant will receive the Ejari Attestation made of three parts:
Ejari tenancy contract:  This part represents the transposition of your private Rental Agreement (tenancy contract) into a standard format accepted by Ejari.
Ejari registration certificate: This part represents that you are authorized for the property and you have successfully registered over the Ejari system and thus giving the terms of the contract legal validity.
Ejari fees payment receipt: This part bears the receipt issued after the payment of the Ejari government fees and typing service charges to RERA.
These steps are applicable to Dubai, Sharjah, and Abu Dhabi. And then you can apply for setting up the electricity and water.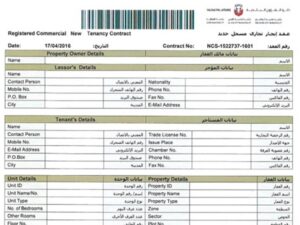 Abu Dhabi uses an online platform called Tawtheeq which includes all the data regarding the property tenants, landlord, etc. This platform gives ease to the landlord and the tenants and helps them to have each other's identity and help them to deal with each other.
Its main aim is to regulate the local real estate market.
This system helps you in many ways, like as soon as you register over this system your water and electricity accounts with ADDC (Abu Dhabi Distribution Co.) will be set up for you so there's no need to send a separate moving in the application.
Or else if you want to register yourself for ADDC you can directly visit the Customer Service Centre at the Municipality of Abu Dhabi City (Head Office), or one of the Municipality's affiliated external centers or customer service outlets.
Documents required are:
Passport copy

Emirates ID 

and a copy of the signed rental contract.