Even while Dubai is saturated with top-notch galleries and museums, the city is also home to many other wonderful works of art. Dubai is filled with public art installations, including works in squares, parks, and occasionally even the vicinity of houses. Where then can you gaze at the best pieces of art in Dubai? To learn more, continue reading.
Top Art Sculptures in Dubai
Public art in Dubai has established itself over time. Numerous masterpieces produced by extraordinarily gifted painters can be found throughout the city. Are you prepared to be in awe of Dubai's best art sculptures? Move along!
WIN, VICTORY, LOVE
It's none other than His Highness Sheikh Mohammed bin Rashid Al Maktoum who first used the term "three-finger salute" back in 2013. The salutation quickly turned into a recognizable gesture in the UAE. W for victory, V for triumph, and L for love. This magnificent piece of art, which Tim Bravington's talent brought to life, represents achievement, work ethics, and love for the country.
Declaration
One of Dubai's best sculptures is called Declaration, and it was made by eL Seed close to the Dubai Opera. This particular work of art, which is primarily composed of Arabic calligraphy, was motivated by a passage from a poem penned by His Highness Sheikh Mohammed bin Rashid Al Maktoum.
Every letter in the Arabic calligraphy on this sculpture aims to create a connection with the viewer. Translation: "Art in all colors and types reflects the nation's culture, history, and civilization" is how the calligraphy in "Declaration" is written. This sculpture, in the words of the artist, is "his proclamation of love to the city he calls home."
Location:

Near Dubai Opera
Dandelions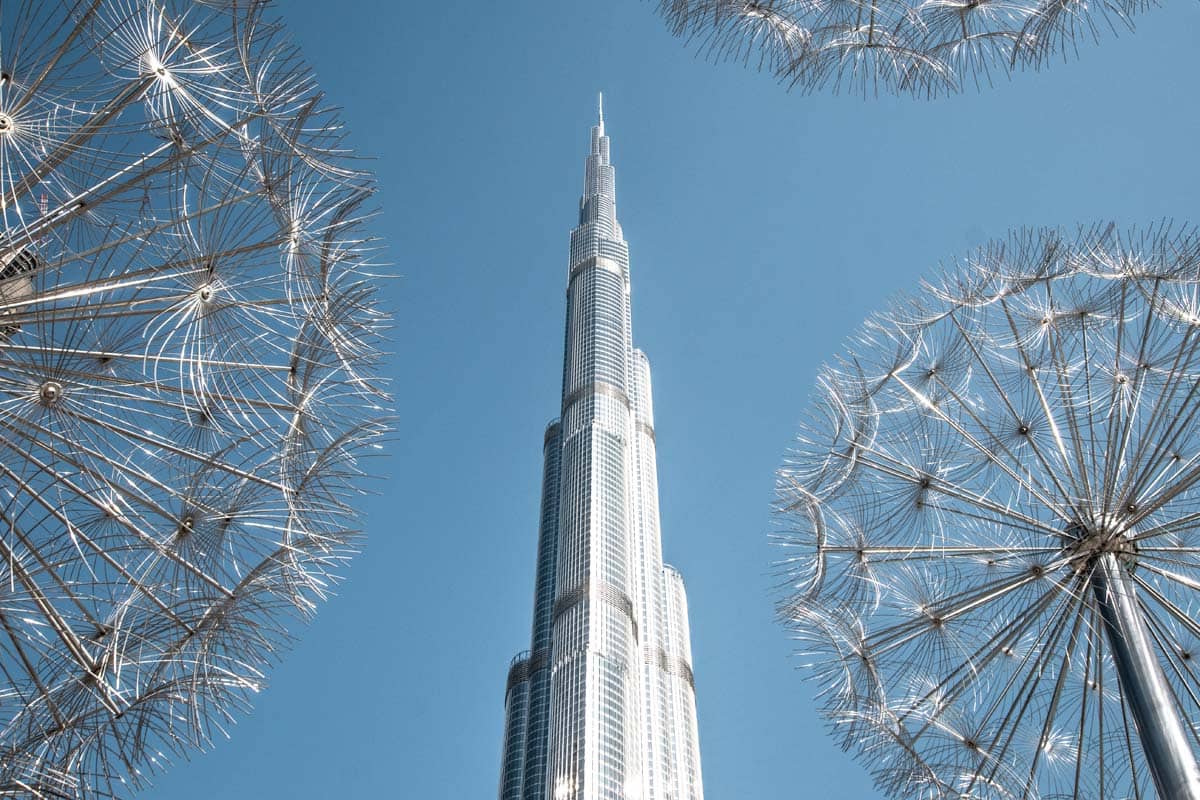 The Dandelions, a sculpture by Mirek Struzik, is among the most well-known and admired works of art in Dubai. Dandelions are a tribute to the grand yet delicate architecture of the city, perched against the sumptuous Burj Khalifa backdrop. They are breathtaking to behold, especially at night when the sculpture comes to life with vibrant neon lights. They stand 6.9 meters tall.
Love Me
What better way to represent love than with a massive heart-shaped 3D sculpture? Richard Hudson, the artistic mastermind behind this subtly lovely sculpture, had just that justification. On Valentine's Day of 2018, the most romantic day of the year, Love Me was unveiled outside Dubai Mall.
The glittering heart perfectly complements the imposing Burj Khalifa, uniting Hudson's timeless classical elegance.
The Wings of Mexico
You're not the only one who has been perplexed by the life-size wings that have been appearing on your social media. The Wings of Mexico, an ethereal sculpture by the widely acclaimed Mexican artist Jorge Marin, is one of Dubai's most Instagrammable works of art.
Three steps lead up to the platform where the sculpture's Valkyrie-style wings are affixed, making it simple for anyone who wants to wear the wings for the ultimate picture op to do so. This interactive sculpture is located at Burj Park and is perfectly positioned in front of the Burj Khalifa, making those Instagram photos even more stunning. The Dubai Mall and its recognizable fountains are placed right next to the lovely green park.
Birthday Suit
Joseph Kilbansky is fascinated by philosophers and art historians, and he hopes that his contemporary art will catch people's attention.
The legendary Birthday Suit by Kilbansky would be shamelessly absent from our selection of sculptures in Dubai. This limited edition, eye-opening bronze sculpture is a part of the "Party" series. This amazing work of art can be found on the Galliard terrace of the Address Hotel Downtown.
Location:

The Galliard, Address Hotel
Mojo
When Mojo is discussed, do you think back to your early years? Professor X's "accidentally" produced the clever monkey scientist. It's time to add a new "Mojo" to your list—a 3.5-meter-tall huge gorilla that is one of Dubai's most cherished art sculptures.
Idriss B, a well-known artist who specializes in crafting enormous animal figurines, created this gorilla as his masterpiece. Mojo's artwork is painted with a specialized holographic paint that alters color depending on the light. The best aspect is. Mojo may be found all throughout the city, especially at the Four Seasons Resort and the Emirates Golf Club. So make sure to put this work of art on your "must-see" list if you're in Dubai!
Location:

Multiple Location
The Sails of the Future
The Sail by Mattar Bin Lahej is another work of art in Dubai honoring the emirate's lengthy history. The calligraphic composition of this work of art is a quotation from H.H. Sheikh Mohammed bin Rashid Al Maktoum.
The lovely sail-shaped sculptures, which are proudly displayed at the gorgeous Address Beach Resort in JBR, are an amazing 5 meters tall.
Location:

Address Beach Resort
Data Monolith Ai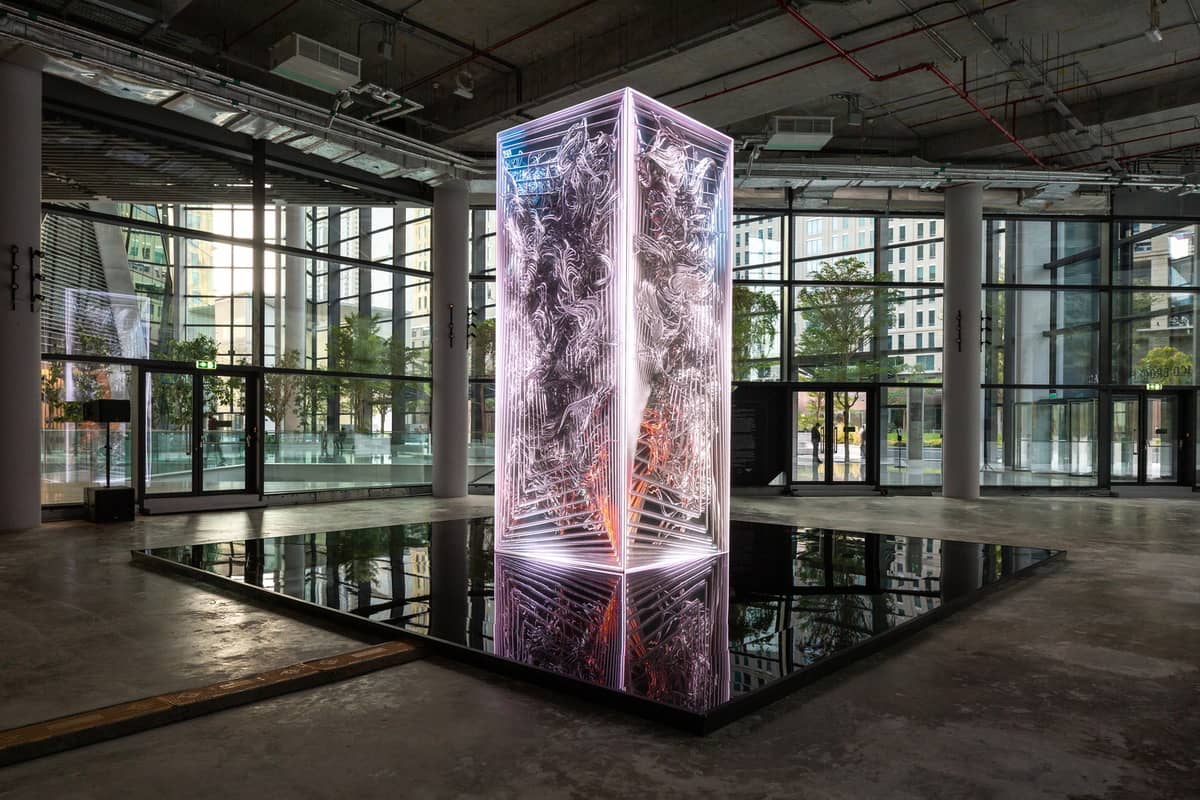 The addition of Data Monolith AI to Dubai's collection of sculptures is impressive. Have you ever wondered what would happen if artificial intelligence and the world's old data beginnings were combined? To put it mildly, the outcome is mind-blowing!
Data from the pre-pottery neolithic era was processed using a number of algorithms by the award-winning media company Ouchhh to develop Data Monolith AI. This work of art boldly displays the time period between 9600 and 7000 BC on four LED panels that each contain 3 billion pixels (wow, talk about the future of art!).
Location:

ICD Brookfield Place
Also Read: The ultimate Dubai destination guide: everything you need to know