The Aquarium and Underwater Zoo at Dubai Mall is a prominent part of the mall's incredible and diverse offerings. A major Dubai attraction, this aquarium is located within the 12 million square feet Dubai Mall. This giant Dubai Mall Aquarium is ideal whether you are a nature lover who wants to see breathtaking fishes from all over the world or an adventure seeker who might be able to dive with the deadliest predators.
1. Aquarium Tank
The fantastic tank is home to 140 species and thousands of interesting aquatic animals, making it one of the world's largest suspended aquarium tanks. The children will be thrilled to see sharks, rays, and a multitude of other wonderful marine creatures in this fascinating world. Additionally, the tank has the world's largest collection of Sand Tiger sharks.
2. Aquarium Tunnel
An interesting way to immerse yourself in the world of marine life is to walk the 48-meter walk-through tunnel in the Dubai aquarium and underwater zoo at the Dubai Mall.
3. Underwater Zoo
On level two above the aquarium tank, this underwater zoo lets you see 40 different exhibit tanks showcasing the amazing range of aquatic animals. It features three different ecosystems – Rainforest, Rocky Shore, and Living Ocean – where you can find fascinating creatures such as Humboldt Penguins, African Dwarf Crocodiles, Giant Spider Crabs, Otters, Lionfish, among others.
Dubai Aquarium & Underwater Zoo: Things To Do
It is impossible to describe the amazing experience of getting up close and personal with thousands of amazing aquatic animals at the Dubai Aquarium and Underwater Zoo in Dubai, the United Arab Emirates as it has several different activities which suit different levels of adventure. The following are some of the best aquatic experiences to explore this beautiful world:
Shark Feeding Encounter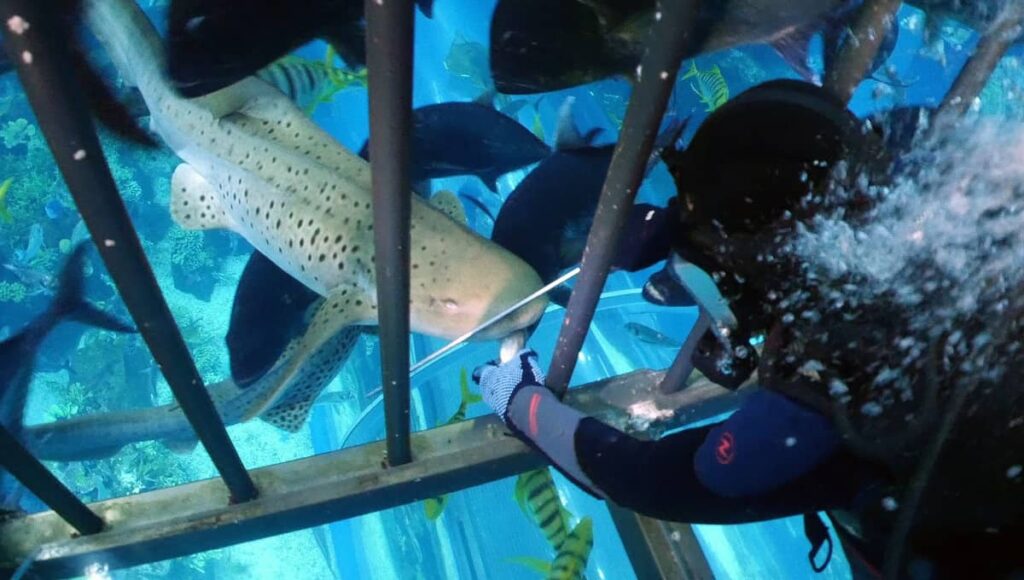 As you come face-to-face with these fascinating predators, you will experience fear, excitement, and thrill at the prospect of experiencing a close encounter with sharks. Guests to the Dubai Aquarium and Underwater Zoo can see the feeding frenzy of sharks as the divers lure them with buckets of fish to attract them to the aquarium. You get a good look at the sharks from within your cage at a distance of just a few centimeters. The Dubai Aquarium and underwater zoo then follow with a glimpse into the shark feeding program. The underwater adventure lasts 30 minutes.
Shark Dives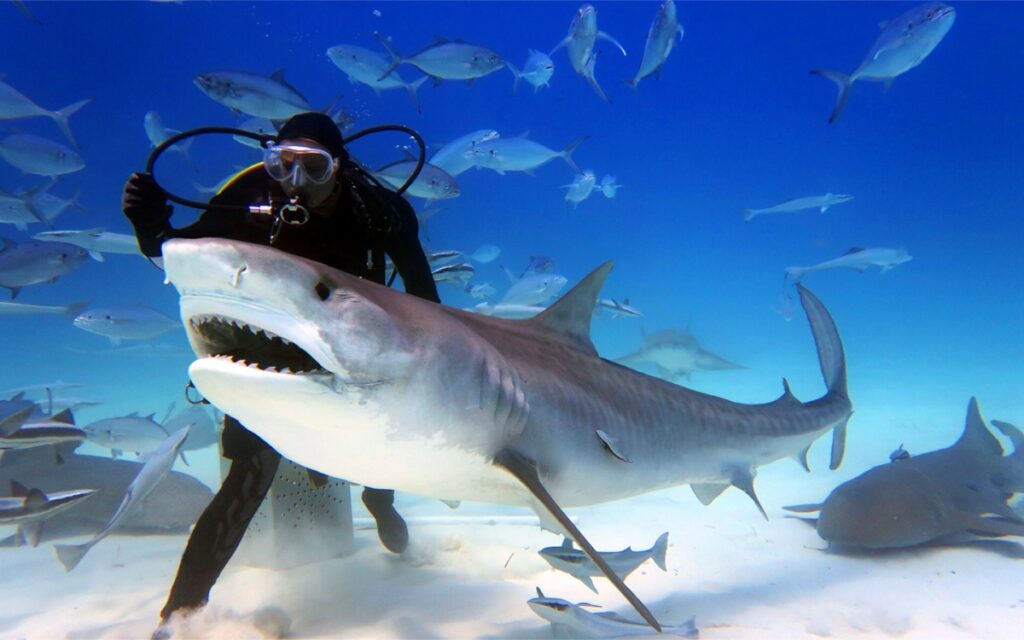 At the Dubai aquarium and underwater zoo, those seeking greater adrenaline rushes can take part in the shark dive experience, which involves plunging into the depths of a 10-million-liter tank for a meeting with sand tiger sharks.
Cage Snorkelling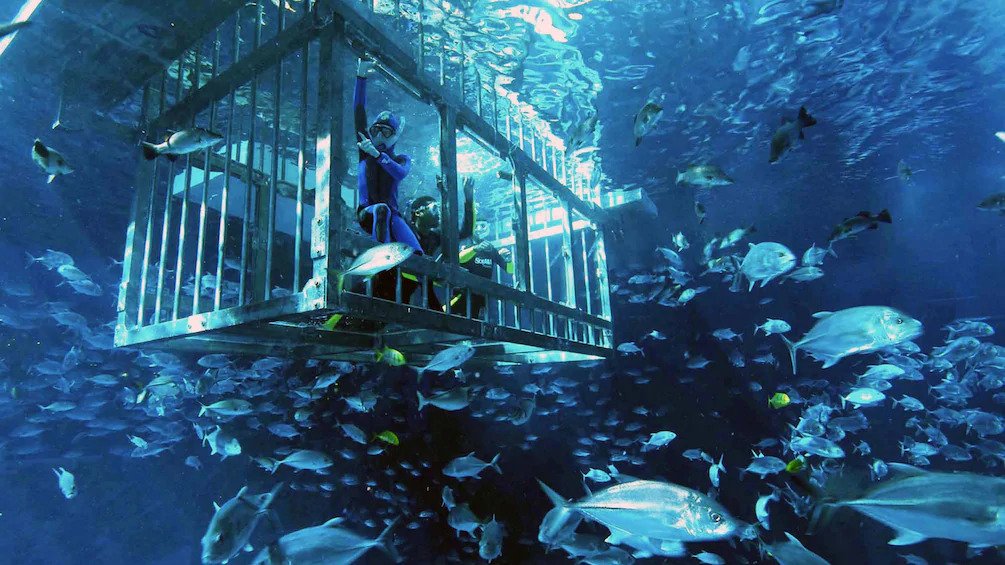 The Dubai Aquarium and Underwater Zoo has an incredible massive tank containing a myriad of colorful species and hundreds of sharks and rays. Get your snorkeling gear on and ready to take a dip into this dazzling ocean world. While inside the cage, you can see the beautiful underwater world in all its glory.
Scuba Diving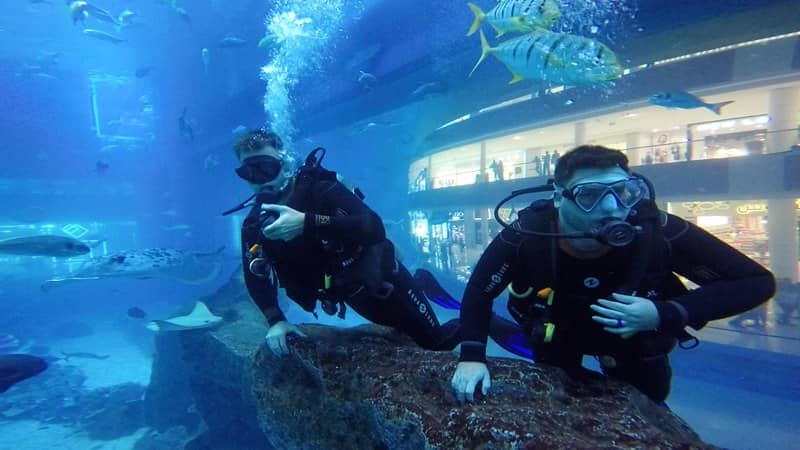 This is the perfect place for you to achieve your diving dream with a professional 2-day PADI certification course. The flexible scuba diving course for beginners with expert instructors is an excellent opportunity to follow your dream of becoming a professional diver.
Wonders at the Underwater Zoo
Meet the King Croc – Being able to meet the world's largest reptile weighing more than 750lbs is certainly an amazing experience! It is the many emotions that run through your body as you watch this majestic creature in its controlled habitat!
Emirates Night Creatures – An amazing and educational journey through the exotic and wonderful wildlife of the Arabian Desert. Experiencing the desert environment, which houses giant camel spiders, toads, fruit bats, snakes, chameleons, and more, is guaranteed to unlock the secrets of the desert.
VR ZOO Experience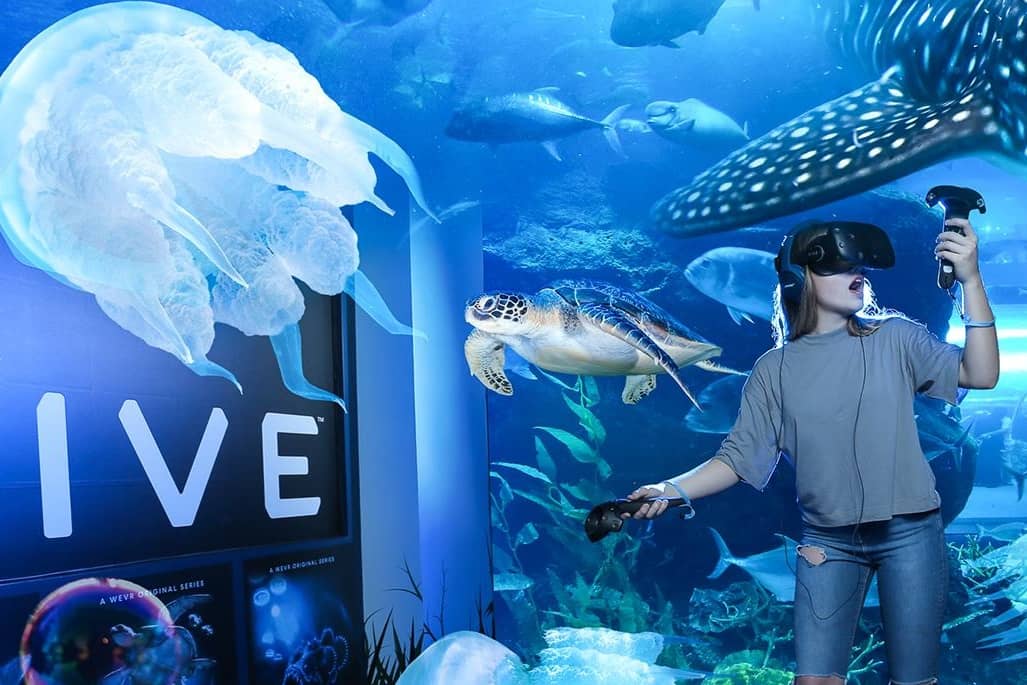 On the ground floor of the Dubai aquarium and underwater zoo, you can immerse yourself in the wild and exciting world of some of the most amazing animals in the world through the innovative and thrilling VRZOO experience. VRZOO allows you to experience the animal world up-close without moving a muscle, from going on a trip with gorillas in Uganda to exploring whale shark habitats in the Maldives to seeing elephants in the savannas of South Africa. It is equally rewarding and loads of fun to participate in the exclusive Ocean Experience.
Glass-Bottom Boat Rides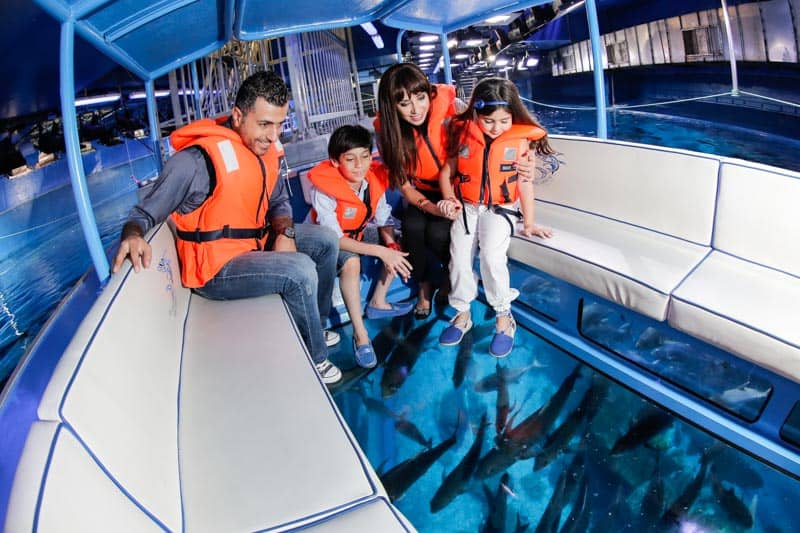 Enjoy a breathtaking view of the aquarium on a Glass-Bottom Boat ride at Dubai Aquarium & Underwater Zoo. Take a guided tour to see thousands of species of fish and marine life from the surface.
Daily Presentations
Watch the rays, sharks, crocodiles, otters, piranhas, and penguins as they eat.
Opportunities For The Marine Biologists In Making
Children can get a sneak peek into the fascinating world of aquarists at the Dubai Aquarium and Underwater Zoo through two interesting packages for junior and senior children.
The Junior Aquarist Programme (5-15 years old) gives children the chance to experience the life of a professional aquarist up close. They can watch sharks be fed, help feed aquatic animals, and much more. Price: AED 157.50 per child.

Advance booking is required.

Senior Aquarists (8-15 years old): This program is designed for slightly older children and includes cage snorkeling as well as the above activities for junior aquarists.

It is a great way to enhance your child's knowledge of this mysterious and amazing world, and a must-see when you visit the Dubai aquarium and underwater zoo. Price: AED 262.50/child. Advance booking is required.
Interesting Facts About Dubai Aquarium and Underwater Zoo
The Dubai Aquarium is the largest indoor aquarium in the world, measuring 51m X 20m X 11m and holding 10 million liters of water.

At Images RetailME Awards 2012, the attraction won the 'Certificate of Excellence' as well as the 'Most Admired Retailer of the Year – Leisure & Entertainment.

It was the first time non-experienced divers were allowed to participate in shark feeding. This makes it a popular tourist attraction in Dubai

With Go Pro underwater cameras, you will be able to capture and document any dive experience, whether it is a Shark Dive, a Specialty Dive, Cage Snorkeling, or Shark Walker. The Underwater Zoo offers a unique experience.

Peddle Thorp, an architecture, interior design, and urban planning firm based in Australia, designed the Dubai Aquarium and Underwater Zoo. This mall is currently managed by Emaar Entertainment and has won several awards, including a Certificate of Excellence, as well as an award for Most Admired Retailer of Leisure & Entertainment.
Address: Ground and Level 1, Dubai Mall, Financial Center Road, Dubai, UAE
Tel: +971 4 4485200
Hours: 10:00 – 2:00 daily