A visit to Dubai offers some of the most extravagant experiences. There's a lot to do in this city, from taking in incredible views from the tallest building to eating a meal on a floating dinner table. Skydiving is another amazing experience in the sky that the city has to offer. When you soar like a bird over Dubai's breathtaking landscape, you experience an adrenaline rush unlike any other, making this a popular bucket list item. We've written this article so that you'll know what to expect during your skydive in Dubai if you're considering it.
Dubai Skydiving: Things You Should Know
Fitness matters: 
Firstly, you must be at least 18 years old and physically fit to skydive. The recommended weight for women is 90 kg, and the recommended weight for men is 100 kg. While skydiving can be extremely safe, you will still be asked to sign a liability waiver (all risks involved with skydiving will be explained to you).
First-timers go in tandem: 
First-time skydivers will need to start off with a tandem jump – i.e. they will be attached to an expert instructor to ensure their safety.
In this sport, the weather plays a key role, and it's best to jump on clear days. Therefore, when planning your trip, check out the forecast.
It takes about three hours to complete the entire process, so plan accordingly. Choose the time slot that is most convenient for you – there are a variety of options.
Types of jumps:
1. Tandem Jump
A tandem jump is what you'll try if this is your first time skydiving in Dubai. The thrilling experience of free-falling can be experienced with the help of tandem jump, an introduction to the sport. To start, you will be securely tied to the instructors through a harness. Your instructor will lead you through the entirety of the jump, including taking off, freefall, canopy navigation, and landing.
2. Static Line Jump
You can consider the Static Line Jump if you would like to make your first skydiving in Dubai experience a solo jump. This type of jump involves a very short period of free fall before the main parachute is opened. As the diver jumps out of the plane, a static line attached to the aircraft initiates the deployment of the main canopy. For your first static line jump, you will need one full day of technical and ground training.
3. Accelerated Free Fall
Accelerated free fall (AFF) is considered the real deal by most people. You will experience 50 seconds of freefall on your first jump with the AFF, which requires extensive training.
With AFF, two instructors work together with the diver to cover the basics of free fall. During deployment, the instructor will hold the diver until she or he is able to deploy the parachute on their own and then release and detach the diver.
As soon as the diver opens the parachute, another instructor on the ground gives verbal guidance via a radio mounted on the diver's helmet.
Where to Skydive in Dubai
Skydive Dubai is the only skydiving center in the country. They hold several Guinness World Records and have an excellent track record. Two drop zones are available for skydiving in the city; one is located at Desert Campus and the other at Palm Drop Zone.
Desert Campus Drop Zone –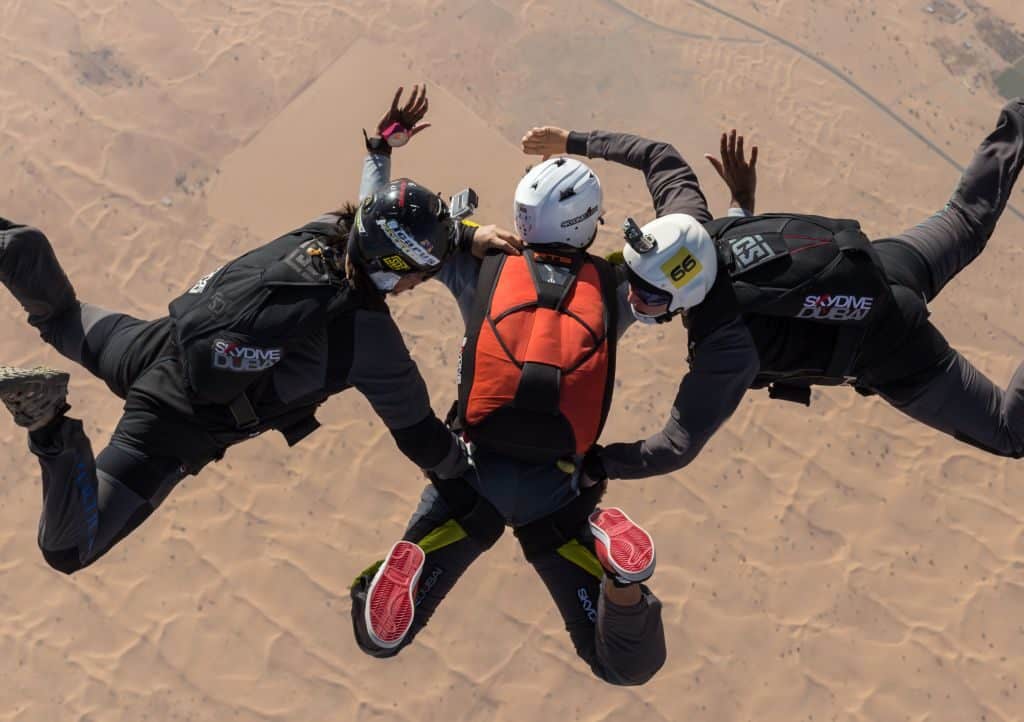 As the name implies, you will be diving in the desert zone where you can see the Dubai skyline in the distance as well as mounds of sand stretching beneath you. In addition, there is a school for those looking to become professional skydivers at this location.
Price:

AED 1699

Address

: Al Ain Road – Dubai

Tuesday to Sunday: 08:30 am – 04:30 pm | Monday closed

Contact: +971-4-832-8080
Palm Drop Zone –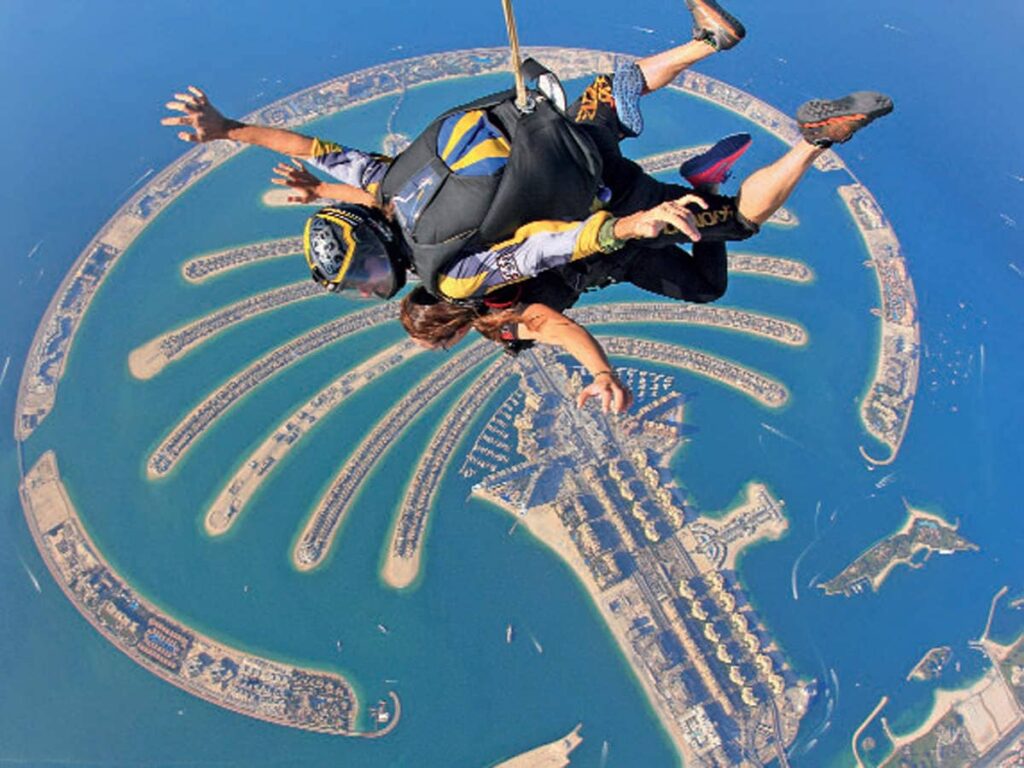 Palm Drop Zone gives you a spectacular aerial view of Palm Jumeirah, the Atlantis Hotel, Burj Al Arab, The World Islands, and Dubai Marina.
Price

: AED 2199

Address

: Al Seyahi St – Dubai

All week: 10:00 am – 04:00 pm 

Contact: +971-4-377-8888
Indoor Skydiving –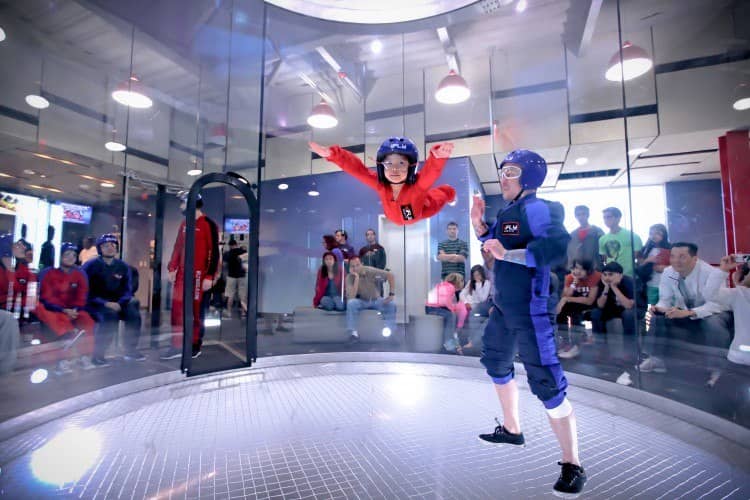 You don't feel ready to face the thrill at first? You can try indoor skydiving. As you are enclosed in a large tube with a blast of air hitting you from the bottom, it recreates the entire experience for you in a safe, secure environment, without an instructor strapped on to your back.
Following a short information and training session, even young children can participate in the activity. A strong breeze will lift you inside the tunnel. While you'll have a trainer inside the tube to help you, you'll have to attempt the flight on your own.