Dubai's Miracle Garden opened on Valentine's Day in 2013 as a real oasis in the desert to counter the stereotype of Dubai as a city of majestic skyscrapers and glitzy attractions. When you enter this incredible recreational spot, you'll soon realize that 'Miracle' is the perfect name for this botanical wonder. If you visit Dubai Miracle Garden, make sure you read these interesting facts first.
Miracle Garden is the world's largest natural flower garden, covering an area of 72,000 square meters and featuring an impressive array of flowers, some of which are rare and being seen for the first time in the Middle East, such as petunias and geraniums. This luxuriant landscape was designed and developed by Al-Ain's Akar Landscaping and Agriculture Company. It is tucked away in a natural splendor close to the Arabian Ranches.
This garden has been planted and bloomed with 45 million flowers of varying colors, styles, and shapes including stars, hearts, circles, sculptures, vintage-style vehicles, igloos, and pyramids. A garden paradise has been created in the midst of a desert city by incorporating all the floral varieties, about 120 species, including seasonal varieties. This is one of the largest producers of Petunia flowers, which are versatile embellishments that can withstand even harsh climates. Some other commonly used flowers are marigolds, roses, calendulas, and tulips.
A unique feature of this attraction is its sub-surface irrigation system. This method of recycling wastewater avoids evaporation and conserves water and energy by up to 75%. 757,000 liters of water are consumed each day for the maintenance of the garden. Back in the day, the only medium available was the sea of the Gulf, which was expensive. However, the desalination price has dropped by a massive margin after this smart installation, consisting of a fleet of trucks that drive around collecting sewage water. Utilizing wastewater effectively is the aim of this water purification system.
Dubai Miracle Garden Attractions
This beautiful park attracts visitors with its new additions and keeps them coming back! First-timers, however, are able to enjoy a range of colorful, eye-catching attractions. There is a lot to see and do at Miracle Garden for new guests, including Disney-themed areas and a life-sized recreation of an aircraft in full bloom.
Trampoline Park
The Miracle Garden in Dubai now features a trampoline park! The park features 12 trampolines that were custom built. Not only is this a great place to engage energetic kids, but the Miracle Garden trampoline park also has safety features. Additionally, staff members ensure that children are safe during playtime.
Disney Avenue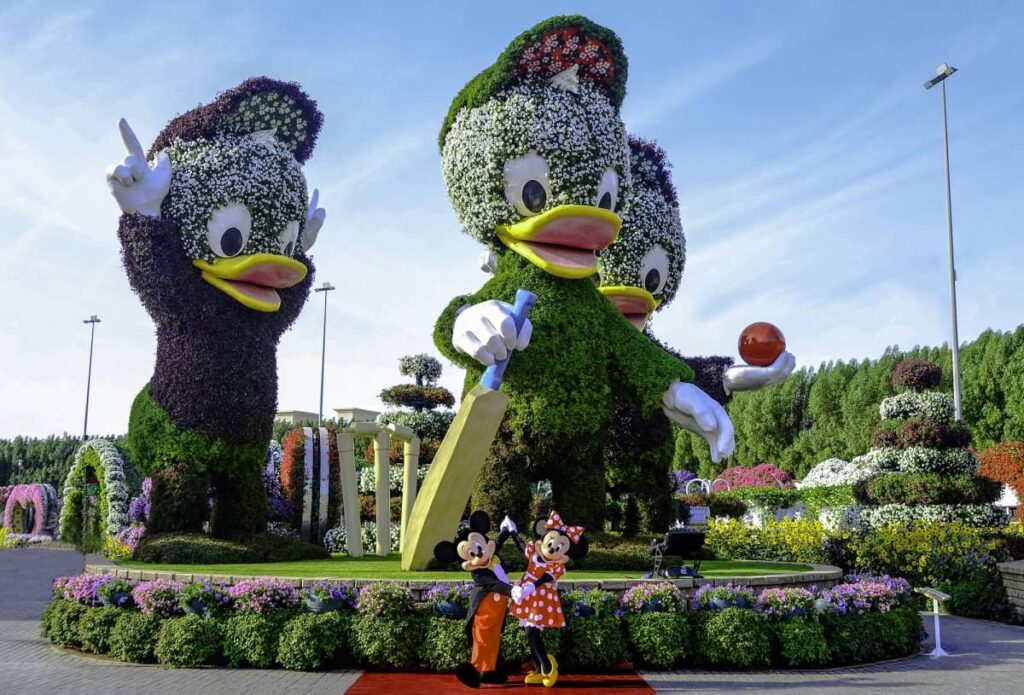 One of Dubai Miracle Garden's most popular attractions is Disney Avenue. It also has a floral display dedicated to Mickey Mouse, which features giant-sized topiaries of his most popular characters.
Mickey Mouse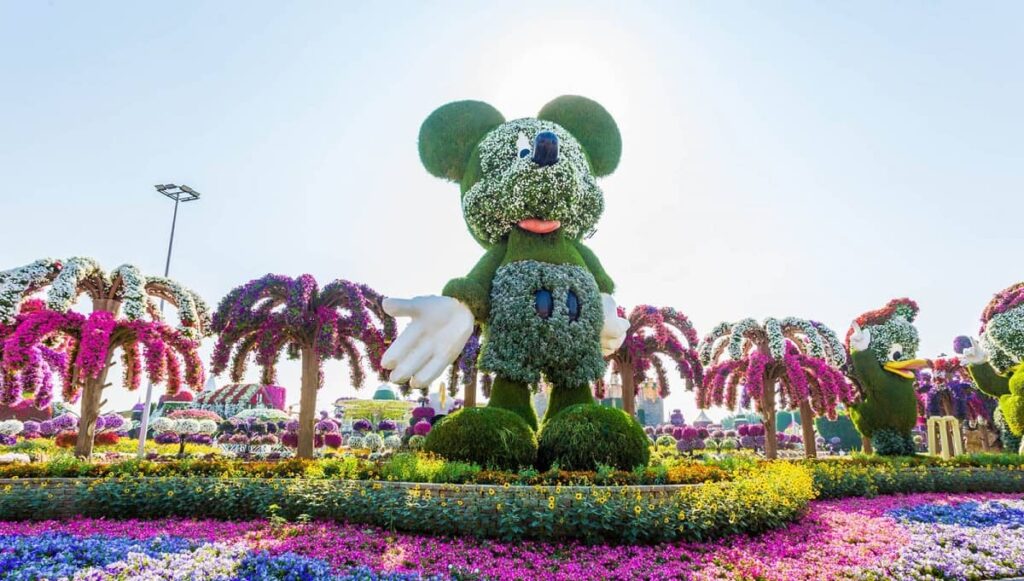 The product of a licensing agreement between Dubai Miracle Garden and Walt Disney Company, the 18-foot-high Mickey Mouse topiary at Disney Avenue was named the "World's Largest Topiary Structure" by the Guinness World Records in 2018!
The massive 35-ton structure is made up of over 100,000 flowers and plants. In addition to Mickey Mouse and friends, guests can also pose with other beloved characters.
Zumba Classes
Zumba classes will soon be offered at the Dubai Miracle Garden, although the full details have yet to be announced. In keeping with the park's family-friendly nature, these classes will be open to both children and adults.
Life-size Emirates A380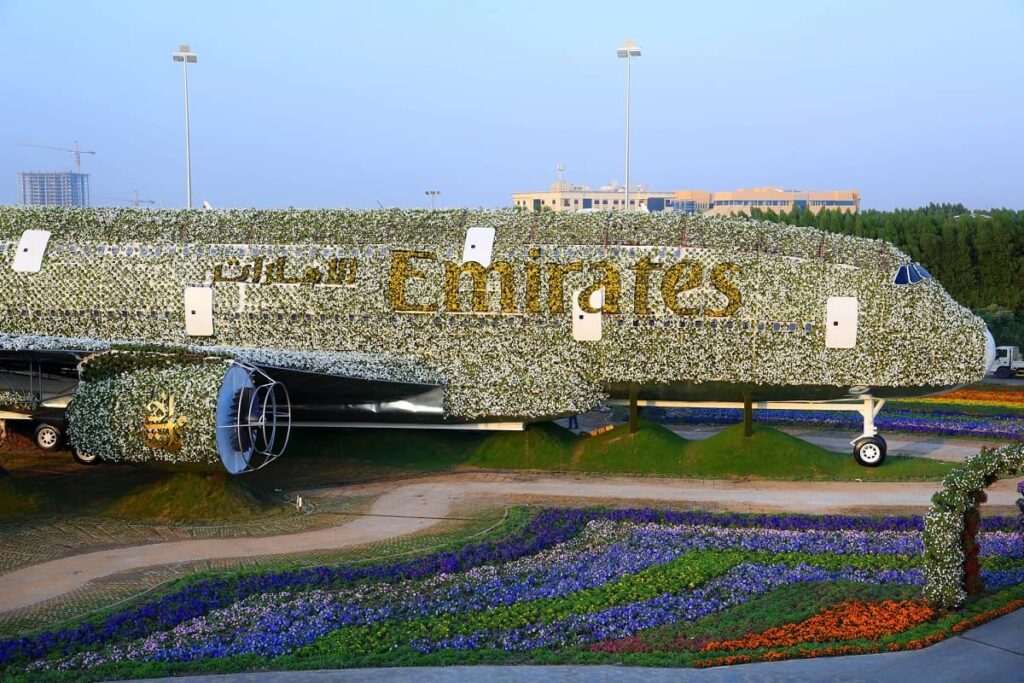 This is the largest passenger aircraft in the world, the Emirates Airbus A380. The Dubai Miracle Garden recreates this mammoth plane in floral form. Approximately 500,000 flowers from seven different species were used to create the life-sized structure, including Marigolds, Coleus, Violas, Gaillardias, Snapdragons, and Germaniums.
For the floral version of the Airbus A380, it took four months to harvest the flowers, and the entire recreation took 200 days. In 2016, the Guinness Book of Records deemed the Airbus A380 floral installation to be the world's largest!
Lost Paradise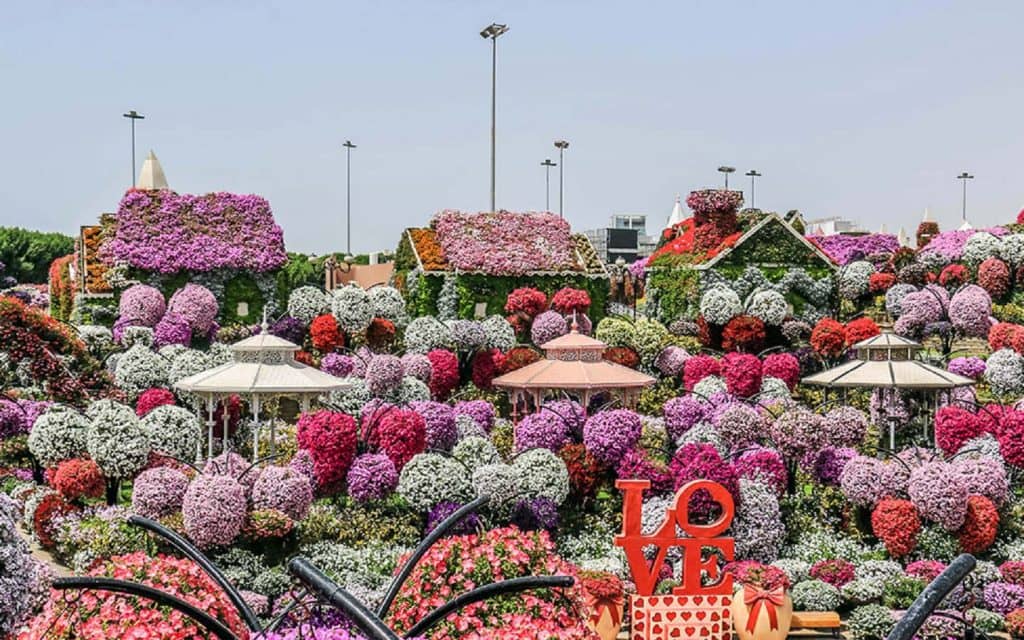 Lost Paradise is an underground area decorated with a cascade of flowers with a depth of 20 feet. The Lost Paradise is like stepping into a fairy tale with its floral houses, bungalows, and decorated walkway.
Cabanas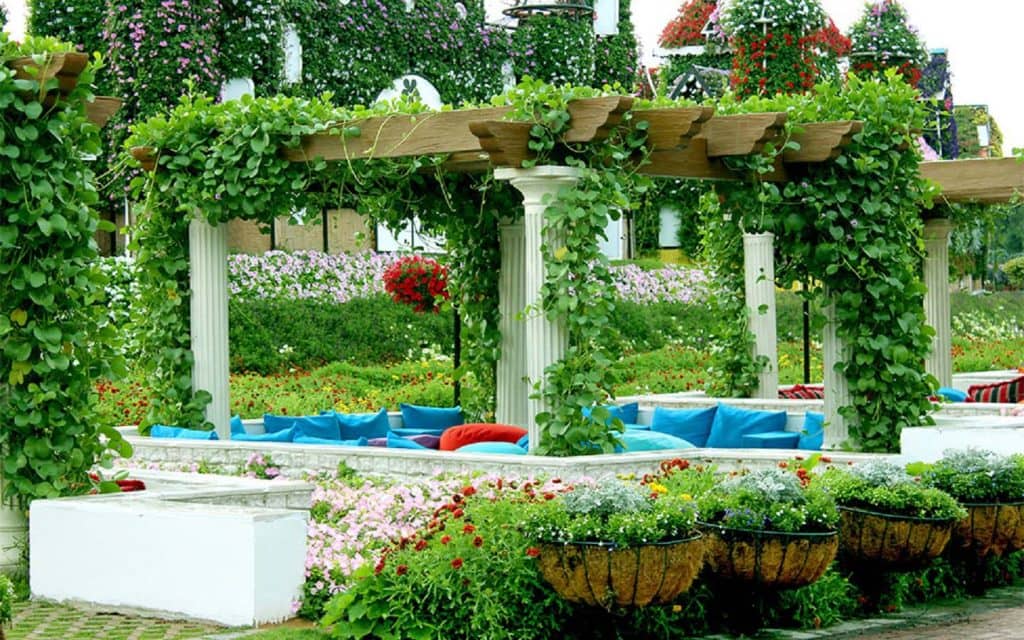 The constant walking wears out the feet. Luckily, there are many cabanas in Miracle Garden where you can take a break. These retreats are filled with comfortable cushions and billowing drapes, making them the ideal place to relax after a long day of sightseeing.
Butterfly Passage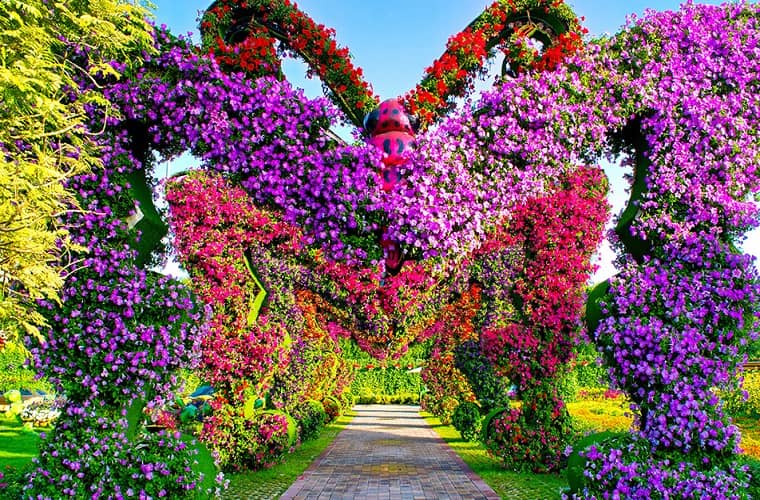 There is a narrow walkway called Butterfly Passage that is covered by a floral butterfly passage. Its butterfly-shaped overhangs are adorned with flowers of all colors, making it a popular photography spot.
Hearts Passage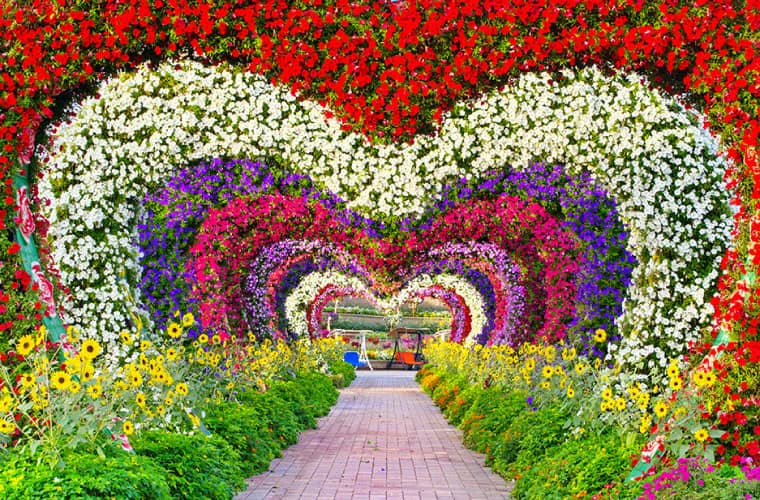 This passageway is shaped like a heart and is one of Dubai Miracle Garden's highlights. Couples and honeymooners visit the Hearts Passage as it is decorated with a variety of flowers whose sweet scent is enough to attract anyone!
Umbrella Passage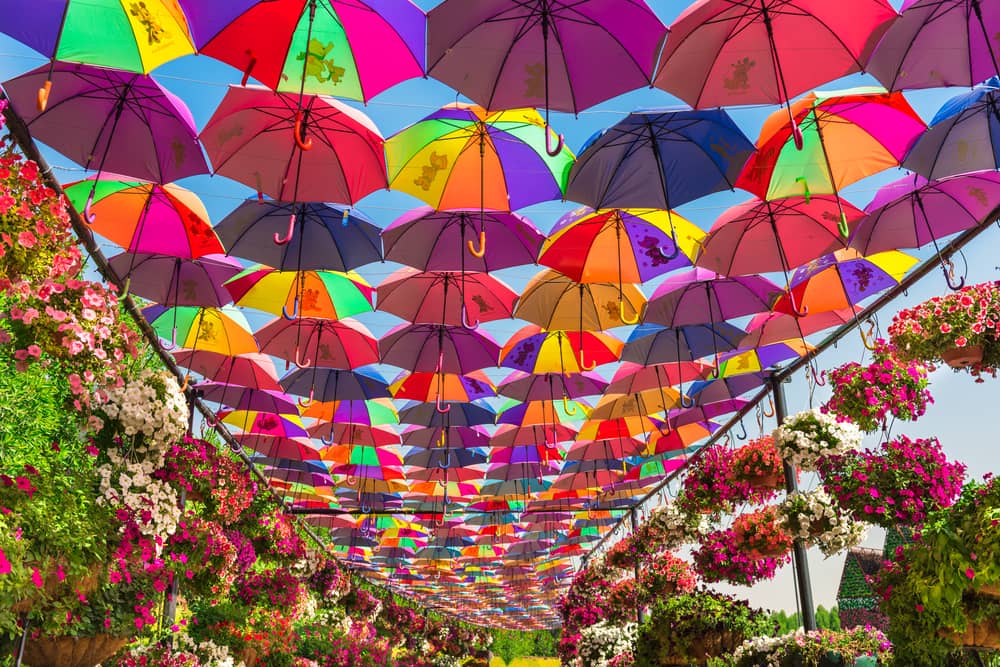 Visitors to the Umbrella Passage will receive shade during the warmer months, making it equally instagrammable and practical. These beautiful passages, suspended high in the air in multiple colors, offer the perfect opportunity for taking pictures.
Giant Tortoise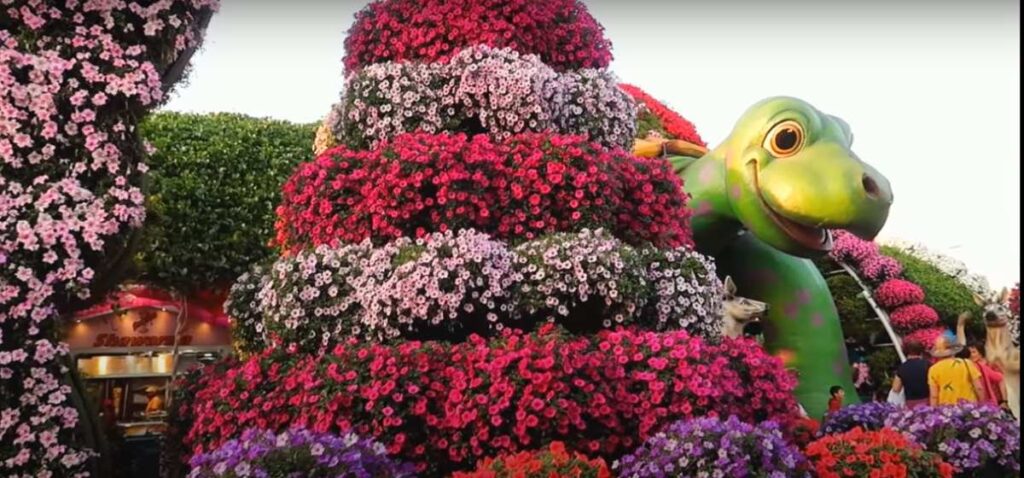 The Giant Tortoise is a favorite destination of young visitors at Dubai Miracle Garden. Visitors can get their entry tickets verified at Gate 2 before enjoying the attractions inside the Garden's sixth edition, where a tortoise welcomes them.
Floral Clock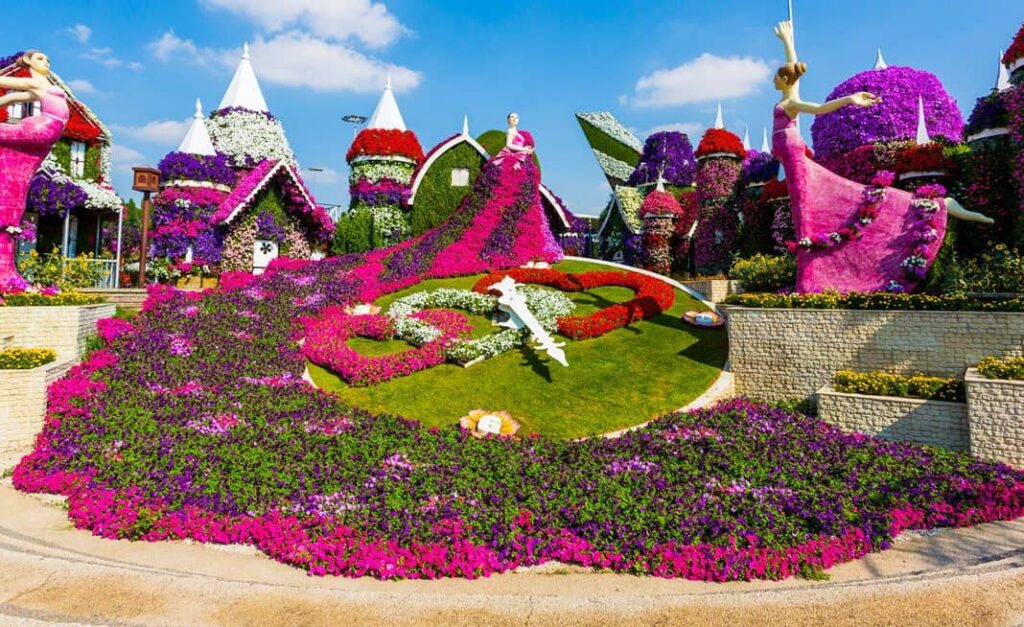 The Floral Clock, which is 15 meters high, is made of real flowers and plants; the designs vary depending on the time of year. A clock designed by Miracle Garden Landscaping features mechanics imported from the United States.
3D Floral Designs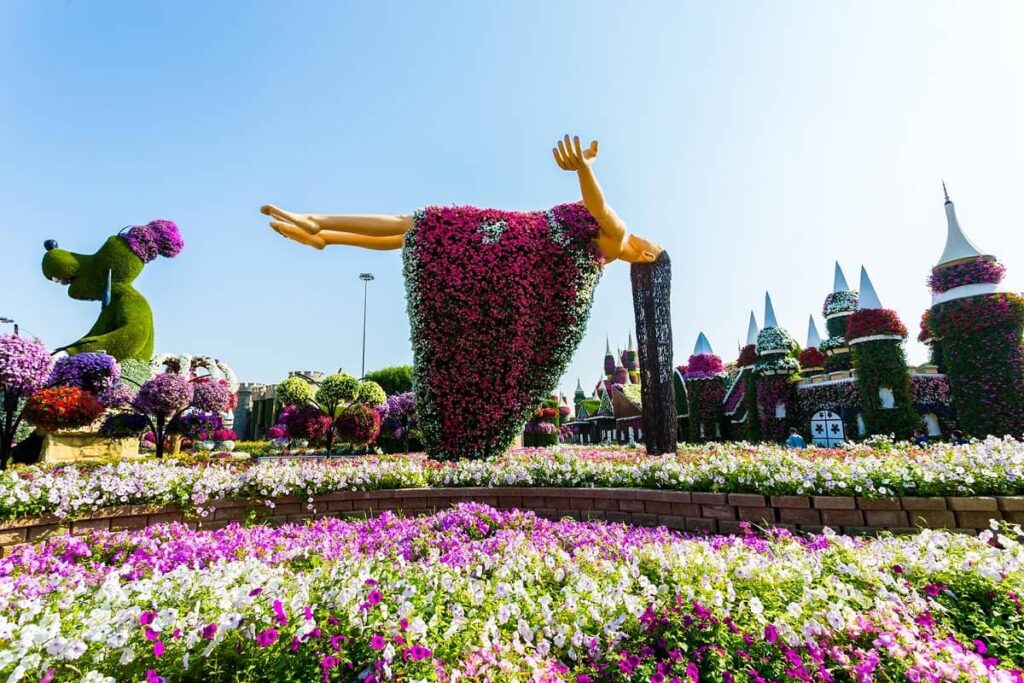 Miracle Garden's 3D Floral Designs add a fairytale-like feel to the gardens with their colorful and elegant designs.
Lake Park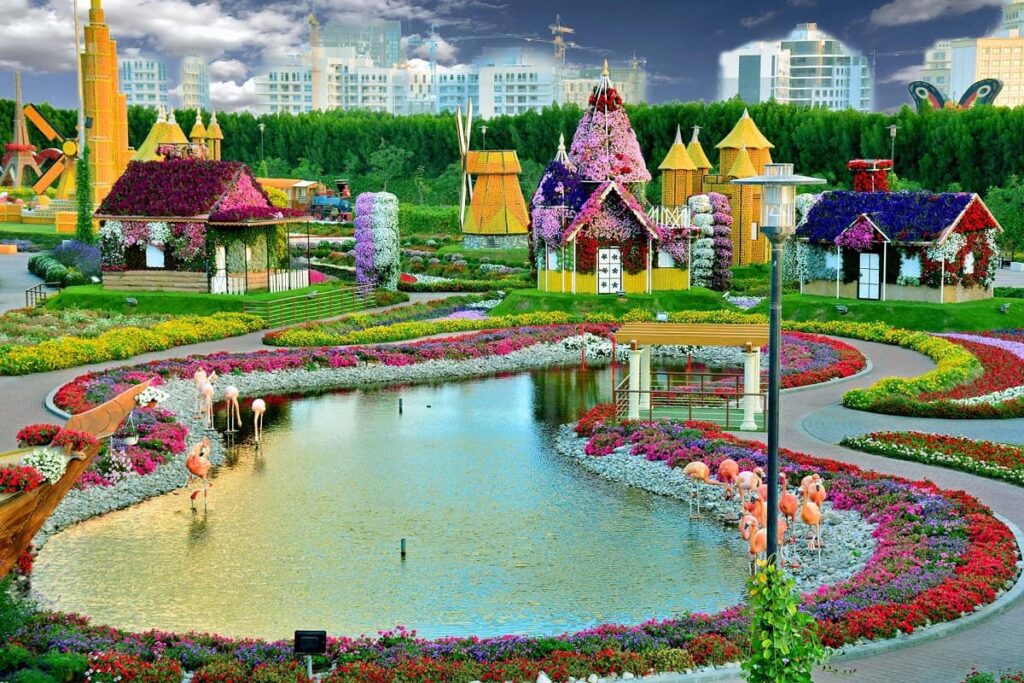 Miracle Garden becomes a waterfront paradise with the addition of Lake Park. An artificial lake surrounded by a variety of colorful flowers makes Lake Park perfect for relaxing strolls.
Costs:
Adults (12 and above): AED 55
Children (3 to 12 years): AED 40
Children below 3 and people of determination: Free of charge
Dubai Miracle Garden Contact: +971-4-422-8902
Timings for group bookings and tours: 09:00 am to 06:00 pm (Sunday to Thursday)
Address: Al Barsha South Third, Dubailand
Facts about Miracle Garden:
Dubai Miracle Garden is the world's largest flower garden.

The miracle of the Dubai Miracle Garden is its existence within the barren desert of Dubai.

Over 50 million flowers are displayed in Dubai Miracle Garden.

There are more floral themes in the Dubai Miracle Garden than anywhere else on earth.

Also in the Guinness Book of World Records is Emirates' floral-themed A380 at the Dubai Miracle Garden.

The Dubai Miracle Garden features 120 different kinds of flowers.

Dubai Miracle Garden features the largest number of Petunia flowers.

The Dubai Miracle Garden always has new themes, new designs, and a new ambiance to experience.

From May to October, Dubai Miracle Garden goes through seasonal renovations of its floral themes.

Dubai Miracle Garden is so large it takes hours to explore it all.

Dubai Miracle Garden was unveiled on Valentine's Day, spreading love and harmony throughout the city.

The overall shape of the Dubai Miracle Garden resembles a Cricket ground.