After the pandemic, Dubai continues to enchant Globetrotters with its captivating experiences. Dubai was one of the first few countries to open again after the Coronavirus outbreak while keeping the safety of its visitors in mind. The Bollywood Parks Dubai is the place to go if you are a cinephile for Bollywood movies and looking for a filmy escape from the mundane. One of a kind in the world, it is dedicated to Mumbai's legendary film industry. There is something for everyone over the five distinct zones, from romance to comedy, action to adventure, music to dance, Indian food to handcrafts from India.
ZONES OF BOLLYWOOD PARKS DUBAI
Bollywood Parks Dubai is categorized into five zones:
Bollywood Boulevard

Mumbai Chowk

Rustic Ravine

Royal Plaza

Bollywood Film Studios
There are five different environments that are inspired by Bollywood characters and movies. Featuring colorful recreations of Mumbai's streets as well as exciting rides inspired by Indian superheroes, Bollywood Park Dubai has so many exciting attractions
BOLLYWOOD BOULEVARD
In this zone, you'll find live entertainment, fun cafes, and vibrant colors. This film takes you back to the golden age of Hindi cinema, the 1960's, 1970's, and 1980's, when the first great stars ruled the silver screen.
'Crossroads' is the main attraction of this zone, which hosts flamboyant dance performances. Get a glimpse of how India's entertainment industry has grown.
Other popular attractions and rides in this area of the park include Rock On, Desi Emporium, and Chalte Chalte.
MUMBAI CHOWK
India's Bollywood industry would be incomplete without a mention of Mumbai, its famous city. In Dubai, Bollywood fans must not miss the chance to relive Mumbai's essence. You can explore Mumbai's famous street culture, food, shopping, and party spirit in this area.
This popular theme park in Dubai is a must-see for fans of Shah Rukh Khan's 'Don' series. Visitors will enjoy the 3D ride based on the character. The Mumbai Express also performs classic Bollywood tunes on the train's rooftop stage, so you can relive the old romantic Bollywood songs.
RUSTIC RAVINE
Here at Rustic Ravine, rural India comes to life. The Lagaan, Sholay, and Dabangg movie franchises all portray India's rural culture, which is the theme of this zone. Bollywood Parks Dubai offers Dubai residents the chance to relive the famous cricket match of Lagaan by riding the motion simulator ride, 'Lagaan – Thrill of Victory', where Bhuvan and his team face off against the British Raj.
For an adventurous ride, families are recommended to visit the mini Ferris wheel, 'Lagaan – Bhuvan's Wheel' at Bollywood Parks Dubai. The merry-go-round called 'Lagaan – Champaner's Cricket Carnival' is one of the fun activities for children at Bollywood Parks.
Experience Sholay the way it was meant to be seen by riding an interactive 3D carousel and arming yourself with an infrared gun to hunt Bollywood's most spectacular goon, Gabbar Singh. Play against your friends to see who can score more hits.
You can also see Salman Khan's iconic character, police officer Chulbul Pandey, in the 'Dabangg Stunt Spectacular' show as he fights to rescue his beloved and her friends.
ROYAL PLAZA
This is the place to go if you want to see amazing musical shows in Bollywood Parks! Rajmahal Theatre offers the experience of a royal palace, featuring several different shows, including 'Jaan-e-Jigar'.
With Bollywood Parks, you'll enjoy two hours of exciting entertainment, which includes a musical performance that will transport you to the royal town of Ishqabad. A live soundtrack of music and dance brings this fantasy tale filled with magic, drama, and suspense to life.
'Stars on Steps' is another high-energy show held at Royal Plaza that takes your Bollywood experience to the next level. It is a glitzy Bollywood musical show that recreates some of the most popular Bollywood songs in a glitzy manner.
The LED screen behind the dancers reveals a breathtaking backdrop of temples and courtyards. There is also a high-energy show honoring the South Indian film industry.
BOLLYWOOD FILM STUDIOS
India's most loved superhero, Krrish, plays a vital role in Bollywood Parks Dubai with its 4D theatre adventure. The experience is a favorite for kids, as you fly through the air and see incredible views of India's famous landmarks before witnessing an epic battle to save the planet from an alien invasion. Ra.ONE offers a virtual world where children can also play.
After this, get ready to experience some real India at Rangmanch, where you can watch a rendition of the traditional dances of the nomadic tribes, and watch a sprightly play called Nautanki. Open-air venues are used for these performances so that they feel authentic, similar to how classic Indian movies portray such events.
The behind-the-scenes area is a must since you get to see how Bollywood movies are produced and how stage performances are performed. The dancers perform some of the most iconic Bollywood rain songs at Cinema Circle where you can relive some of the most romantic moments from Hindi movies.
The 9 Top Attractions of Bollywood Park Dubai
Here's what you can expect at Bollywood Parks Dubai, a 1.7 million square foot park themed after Bollywood movies. Make sure you reach these sites well in advance to avoid crowds:
1. Rajmahal Theatre
Bollywood parks Dubai is centered around the opulent Rajmahal Theatre. From the exterior, it evokes the grace of the vintage period of Indian cinema, while the interior features high-tech features. Its 856 seats make it look nothing short of a royal palace, making live performances better suited for its backdrop.
2. Jaan-e-Jigar
As a specialty of the Rajmahal Theatre, the Broadway-style Bollywood musical Jaan-e-Jigar is a pioneering initiative of Middle East. A large-scale studio gets enriched with visual effects that enhance the live drama, action, romance, and dancing. You will see the fascinating story of two brothers, Jaan and Jigar, as they fight evil Marjani for controlling the kingdom in this 30-minute program.
3. Lagaan
Bollywood Parks Dubai features three rides worth mentioning: Bhuvan's Wheel, Gauri's Carousel, and the simulating roller coaster, The Thrill Of Victory. The setup of the laid-back Indian village flanked by rolling terrains and farmlands looks idyllic and will let you have the best view of a moving deuce ball. On the mini Ferris wheel, kids must be at least 80 cm tall.
4. Dabangg
The 19-minute stunt show performed by ten stuntmen is a must-see attraction at Bollywood theme park Dubai. Laugh along with the cheesy one-liners as you listen to Bollywood music. The heroic rescue of Rajo by Chubul Pandey and an explosive encounter with rogues in a warehouse are some of the highlights of Bollywood drama.
5. Sholay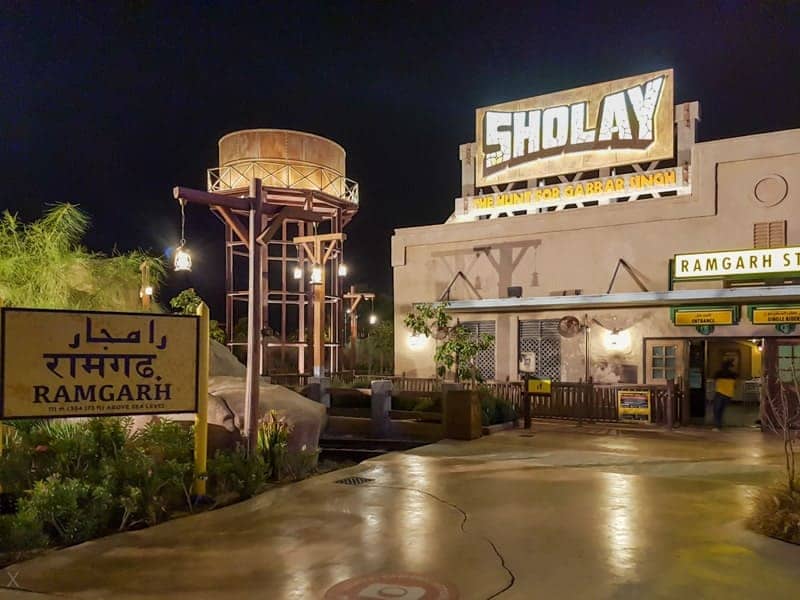 It will be a thrilling 3D shooter ride in a darkened secluded Rustic Ravine as you receive laser guns to shoot down dacoits led by Gabbar Singh from the classic movie Sholay. Play against your friends to aim and hit mangoes and reward yourself with those you hit. Families with children over 90 cm tall are welcome to participate.
6. Don
Bollywood parks Dubai offers an interactive 3D motion simulator tunnel ride with make-believe Interpol agents and mafia dons as the agents chase the mafia don through Dubai's streets. Don keeps taunting you with his cunning moves as you precisely drive past the iconic skyscrapers. One wrong move will let Don escape to his next audacious heists.
7. Krrish
Anyone over 120 cm tall can visit this flying theatre. While riding the ride, you will be accompanied by Indian superhero Krrish as you soar through the 4D virtual sky above the vibrant Indian landscape. In addition to enjoying the realistic landmarks of India on the screen, you can also participate in the battle against alien invasion to save the Earth from extinction by sitting in the front row.
8. RA.One
If you visit during Bollywood parks Dubai timings, you can take the multi-sensory 4D virtual ride, in which you will become a shareholder of Shekhar Subramaniam's company, now owned by his son Prateek. The hero G.One is challenged by RA.One in this unveiling of the Game Glove Controller. Experience the action as if you were really there!
9. Zindagi Na Milegi Dobara
Take a 30-minute journey behind the scenes of the production house to relieve some of the lively vibes of the superhit movie Zindagi Na Milegi Dobara. The live show demonstrates how to make magic while learning about filmmaking and post-production, led by an interpreter who does an excellent job.