Aquaventure Dubai is the largest and one of the most popular water parks in the world. The park has more than 20 water slides, which are rated as the longest and most adventurous in the world, along with several other fascinating water rides.
Some parts of the water park are dedicated to giving visitors the opportunity to play with the sea lions, feed the cow nose rays or have an adventure with friendly dolphins. There are several places for children to have ultimate fun where they can jump into lazy rivers, climb towers, or simply enjoy a variety of recreational activities.
Experiencing the Lost Chamber Aquarium is something you should not miss. It is an open aquarium that contains over 65,000 exotic creatures. Get a real vision of what it's like to be a sea animal, swim, snorkel, and walk by the marine animals. Also, Aquaventure offers diving and snorkeling courses in varying levels and awards certificates upon successful completion.
The water park is home to a wide range of restaurants, cafés, food joints, and pubs.  Right from world-renowned restaurant Bread Street Kitchen and Bar owned by the celebrity chef Gordon Ramsay, Japanese restaurants like Nobu, Saffron Asian Buffet kitchen, Platto's coffee and Tea lounge, The shore and many other specialty restaurants are all here to choose from depending on your taste buds.
The water park is a favorite shopping destination for premium shoppers. You can find jewelry, designer swimwear, watches, chocolates, luxury home decor, and more at its boutiques and exclusive showrooms.
Atlantis also offers its visitors an option for a staycation as it has an array of the best sea view and palm view suites and luxury villas of Dubai. There is an underwater suite, a presidential suite, and a bridge suite that are opulent venues designed exclusively for exclusive clients. One can also relax and rejuvenate the body and mind at one of the many spas, salons, and treatment centers within the area. Experience thrills, drama, adventure, fun, and tasty food at Aquaventure.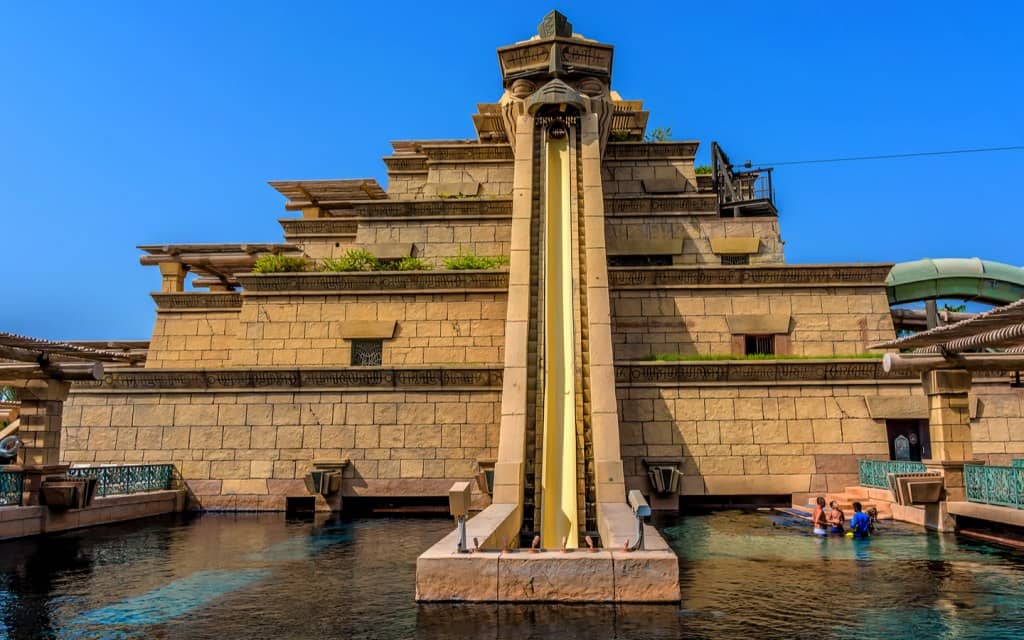 Things to Do in Aquaventure Waterpark
Water slides:

Experience the longest, deepest, most thrilling, and most exciting water slides in the world. In the Water Park, you will find record-breaking slides and rides.

River ride:

Relax in the water park's lazy river or enjoy some exciting rapids and other rides at the Torrent and Zero Entry Pool.

Cownose Ray feeding:

During a scuba diving session, you can walk into the lagoon to hand-feed-friendly Cownose Ray fishes.

Shark Safari:

This is one of the best activities in Dubai to see deadly sharks up close. It is not necessary to be a proficient swimmer to participate in this session. Just put on the helmet, gather your courage, and face the sharks up close.

Kids Play area:

The Splasher's Kids Play area is designed exclusively for children up to 1.2 meters tall, as well as their parents, who are invited to explore and have unlimited fun on the water slides and climbing frames. Guests at Atlantis can also enjoy a section called Atlantis Kids, where children between the ages of 3 and 12 can explore their imagination and participate in various fun activities.

Diving:

There is the possibility of learning scuba diving and snorkeling up to different levels and taking part in one of the other exclusive activities. A person can enjoy swimming with more than 65,000 rare and exotic animals. There are several names for this experience such as Aquatrek and Ultimate Snorkel. Dolphin Bay's Ambassador Lagoon, where you can walk underwater, is also an unforgettable experience.

Staycation:

Rejuvenate yourself by spending a few days at the Atlantis Palm, where you will find luxury and opulence at its finest. Several types of rooms and suites are available for your stay. The Oceanview room offers a majestic view of the sea, while the Palm view room provides a stunning view of the Palm Islands.

Spa and Fitness:

Treat yourself to some luxury treatment at any of the Atlantis' spas and salons. From Shiseido with 130 years of experience in beauty to Gentlemen's Tonic with its men's grooming offerings, you have plenty to choose from.

Sea Lion Point:

You will be amazed by the antics of South African furred sea lions at Sea Lion Point. Create unforgettable memories by diving into the shallow water and taking a photo of your furry companion.

Shopping:

At the waterpark, guests will find a variety of fine boutiques and stores offering a range of swimwear, watches, jewelry, and art pieces.

Restaurants: Aquaventure and its surrounding areas provide ample opportunities to explore world-class cuisines.

Michelin-star restaurants, fine dining destinations, theme restaurants, and cafés – there is something for everyone under one roof.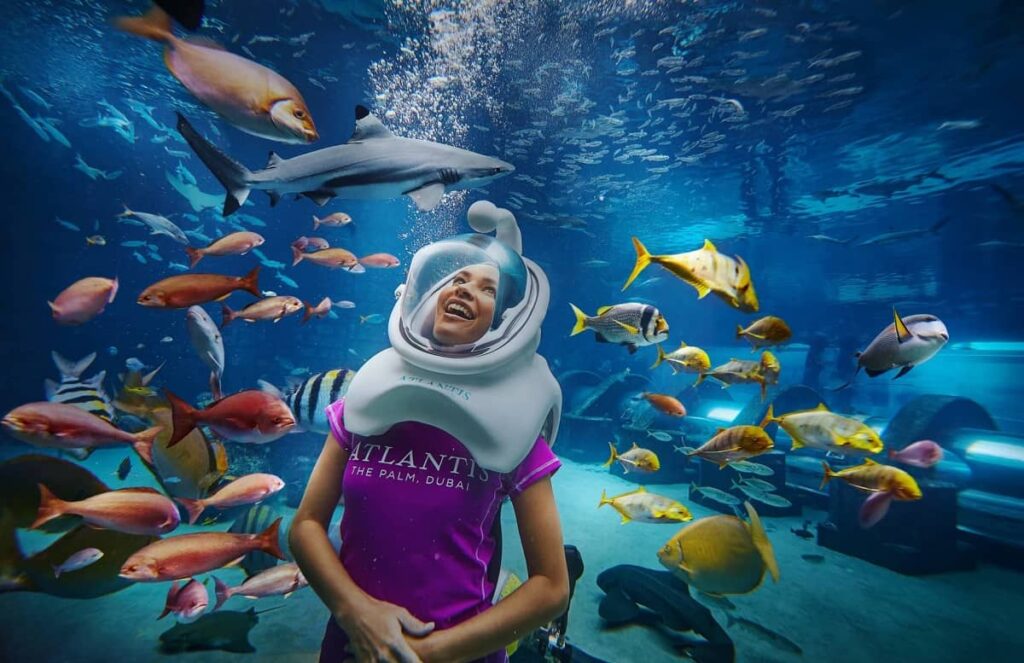 Aquaventure Waterpark's water slides
In Aquaventure water park, the water slides are extremely popular due to their large size and adrenaline-pumping rides.
– Aquaconda: The world's largest water slide can be found here. This giant sea serpent will take you through a dark, twisting tunnel and make you feel butterflies in your stomach.
– Zoomerango: This water slide offers several feelings, including deep vertical zooms, huge drops, and sensations of weightlessness.
– Poseidon's Revenge: This extremely audacious ride has been set up to face the wrath of Poseidon. The floor starts falling down around you as soon as you get in the capsule; at first, you're rolling at sixty kilometers per hour as the capsule descends to the heart of the tower. Getting thrown upside down by the fury of Poseidon will get your adrenaline pumping.
– Slitherine: This is the world's first dual water slide within a waterslide. Check your speed against your friend as you slither through a frenzy of twists and turns. Be careful not to fall into the Aquaconda.
– Water coasters: This type of water slide propels you up and down on jets of water with the most easygoing and relaxing experience.
– Leap of Faith: Take a leap of faith at the largest and scariest waterfall in the world. There is a 9-story skyscraper water slide that plunges you into the ocean almost vertically until you find yourself surrounded by sharks and cownose rays.
Location: Atlantis The Palm – Crescent Rd – Dubai – United Arab Emirates.
Timings: 10.00am – 6.00pm every day
Price: AED 290 to AED 350 per head depending on the age group and type of package chosen.