Expo 2020, the most awaited global event, is near. After a year-long delay, Expo 2020 Dubai will take place from 1st October 2021 to 31 March 2022, and it will encourage world leaders to share ideas to create a more sustainable future.
Expo 2020 Dubai brings together millions of people from all over the world to celebrate human ingenuity, share ideas, promote innovation and inspire collaboration. They are held every five years and last for six months. This year's theme will be 'Connecting Minds, Creating Futures'.
190 countries are expected to participate in Dubai Expo. This one-of-a-kind experience offers you a taste of the best Emirati hospitality. To ensure that Expo 2020 Dubai inspires future generations globally and locally, the Expo is planned to keep the youth in mind.
What is the purpose of an Expo?
Expos are held to connect countries and facilitate collaborative partnerships that accelerate the advancement of solutions for environmental preservation and personal growth. The Expo is held every five years.
Among the four kinds of international events overseen by the BIE are:
> World Expos (officially known as International Registered Exhibitions)
> Specialized Expos, (officially known as International Recognized Exhibitions)
> Horticultural Expos and the Triennale di Milano.
An Expo is a global event addressing fundamental challenges humankind faces. A global gathering of innovators and problem-solvers, they provide a venue to explore a theme through immersive exploration.
Themes of Expo 2020 Dubai
1.Opportunity:
A sub-theme of Opportunity will promote human development. The course will cover every aspect of human performance that contributes to the improvement of human resource conditions. It will lead you to question yourself about how you can bring about real change in the world.
Some of the most notable pavilions that have been revealed at the expo so far include:
Austria Pavilion: With a design based on a nation known for reimagining ideas, the Austria Pavilion has 47 truncated cones made from 9,000-year-old soil.
China Pavillon: At Expo 2020 Dubai, this will be the largest pavilion and will focus on building a shared community between humankind.
Emirates Airline Pavilion: Visitors will be able to interact with interactive windows, check out a virtual fuselage, take a walk through automated trolleys and hear noise-canceling shrouds at Dubai Expo 2020's Emirates Pavilion.
UK Pavilion: It will feature an incredible tapestry of sounds to create the ultimate Expo 2020 experience. The project will bring together beats, notes, and rhythms from around the world. People of any age and playing any instrument can submit their submissions to the agency. To create the seven-minute-long "soundscape", the sounds will be weaved together by a sound designer. It will be a salute to orchestras, choirs, and music sessions that celebrate humanity, creativity, and optimism.
Among the other countries represented in the Opportunity, District is Bahrain, Belarus, India, Italy, Japan, Luxembourg, Monaco, Morocco, Norway, Saudi Arabia, Switzerland, Ukraine, and the United Kingdom.
2.Sustainability:
The sub-theme here will encourage you to revisit real-life problems, so you can come up with real-life solutions. It is in your hands to shape the future of Earth, and this can be your golden opportunity to facilitate sustainability on Planet Earth.
Pavilions will be set up in the Sustainability District for the following countries:
Azerbaijan Pavilion:

A leaf-shaped rooftop pavilion, which encourages visitors to think about how their personal choices affect the environment.

Canada Pavilion:

A wooden structure consists of a 360-degree immersive theater illustrating the country's story.

Netherlands Pavilion:

In addition to featuring sustainable products, the pavilion features a cone-shaped vertical farm
There are also pavilions for Brazil, Czech Republic, Philippines, Montenegro, Spain, Sweden, Singapore, and Germany in the Sustainable Development District.
3.Mobility:
In Mobility, we will explore the ways humans, goods, ideas, and data travel. The mission of Expo 2020 Dubai is to examine how the movement of human beings, products, and ideas has unfolded numerous possibilities and how it can unfold even further.
The following countries will have pavilions in the Mobility District:
Belgium Pavilion:

The pavilion will highlight renewable energy sources as well as smart technologies to feed plants and showcase Belgium's spectacular food.

France Pavilion:

"Lights," the France Pavilion's theme, will focus on light as a source of progress, heat, and connection.

Oman Pavilion:

Besides reflecting Oman's rich past, this pavilion will also demonstrate how frankincense plays a pivotal role for 5000 years.
Finland, Peru, Poland, Russia, Turkmenistan, and the Republic of Korea will also participate in the Mobility District at Expo 2020.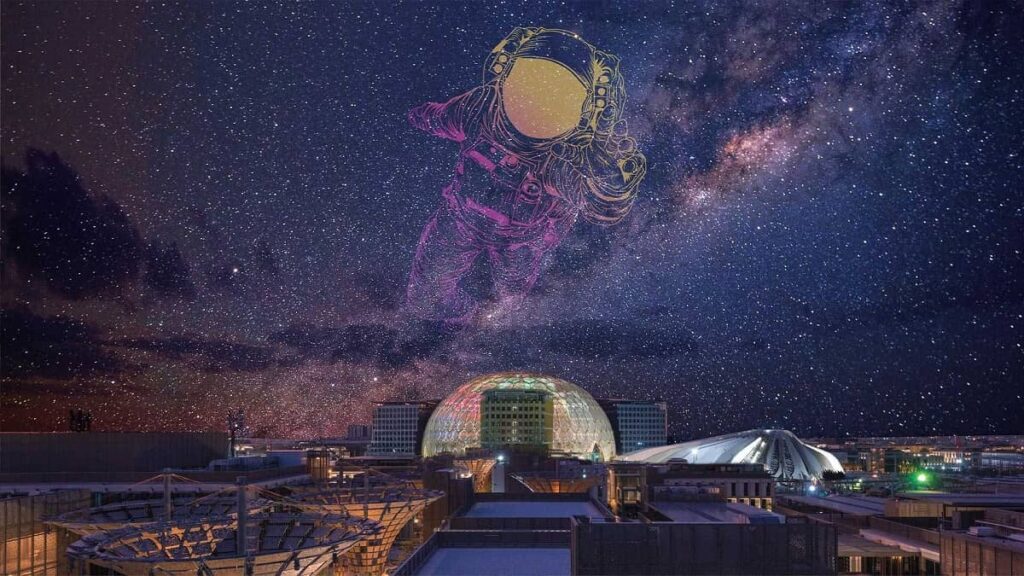 Dates and times:
Opening day: 1st October 2021

Closing day: March 31st, 2022
Site opening hours:
Weekdays: 9 am-1 am

Weekends and special days: 10 am-2 am
Theme weeks:
The expo site will host 10 theme weeks over a period of six months. These weeks will be devoted to discussing the most important challenges and opportunities of our time. A variety of themes will be on display that will facilitate conversations that will shape our planet's future, from climate control to space exploration. Here they are with dates:
Climate and Biodiversity:

October 3 to 9, 2021

Space:

October 17 to 23, 2021

Urban and Rural Development:

October 31 to November 6, 2021

Tolerance and Inclusivity:

November 14 to 20, 2021

Knowledge and Learning:

December 12 to 18, 2021

Travel and Connectivity:

January 9 to 15, 2022

Global Goals:

January 15 to 22, 2022

Health and Wellness:

January 27 to February 2, 2022

Food, Agriculture, and Livelihoods:

February 17 to 23, 2022

Water:

March 20 to 26, 2022
Location of Dubai Expo 2020:
Expo 2020 Dubai occupies 4.38 square kilometers and is located in Dubai's South district, near Al Maktoum International Airport and within a short drive of Dubai International Airport, Abu Dhabi International Airport, and Abu Dhabi Cruise Terminals.
How to get around Dubai as well as to and from the Expo site?
Expo 2020 can be reached by a variety of transportation options. Taxis and the Dubai Metro are easily accessible. There will be a dedicated Expo 2020 Metro Station on the route 2020 line, which can accommodate 40,000 passengers per hour. A valid international driving license can be used to rent a car.
Cost of Expo 2020 tickets:
One-day entry
Adult (18-64) – AED 120 or 32 USD

Senior (+65) proof of age required – Free Entry

Youth (6-17) proof of age required – AED 60 or 16 USD

Child (5 and below) proof of age required – Free Entry

Students of any age. Student ID is required – AED 60 or 16 USD

Person of determination proof of eligibility is required – Free
3-day entry
Adult (18-64) – AED 260 or 70 USD

Senior (+65) proof of age required – Free entry

Youth (6-17) proof of age required – AED 130 or 35 USD

Child (5 and below) proof of age required – Free entry

Students of any age. Student ID is required – AED 130 or 35 USD

Person of determination proof of eligibility is required – Free
Monthly Ticket Packages
Adult (18-64) – AED 350 or 94 USD

Senior (+65) proof of age required – Free entry

Youth (6-17) proof of age required – AED 175 or 47 USD

Child (5 and below) proof of age required – Free entry

Students of any age. Student ID is required – AED 175 or 47 USD

Person of determination proof of eligibility is required – Free
Season pass for the entire period of Expo 2020
Adult (18-64) – AED 595 or 161 USD

Senior (+65) proof of age required – Free entry

Youth (6-17) proof of age required – AED 297 or 80 USD

Child (5 and below) proof of age required – Free entry

Students of any age. Student ID is required – AED 297 or 80 USD

Person of determination proof of eligibility is required – Free
Season pass – Premium
Adult (18-64) – AED 895 or 242 USD

Senior (+65) proof of age required – AED 300 or 81 USD

Youth (6-17) proof of age required – AED 597 or 161 USD

Students of any age. Student ID is required – AED 597 or 161 USD

Person of determination proof of eligibility is required – AED 300 or 81 USD
Season pass – Ultimate
Adult (18-64) – AED 1295 or 350 USD

Senior (+65) proof of age required – AED 700 or 198

Youth (6-17) proof of age required – AED 997 or 269 USD

Students of any age. Student ID is required – AED 997 or 269 USD

Person of determination proof of eligibility is required – AED 700 or 189 USD