You can spend some rejuvenating time with the marvelous dolphins and seals at Dubai Dolphinarium, which is situated in Creek Park, Dubai. The Dolphinarium grew from a family entertainment zone to one of the most popular places to visit in Dubai that lets you share amazing experiences with these water mammals(Dolphins).
Water stunts and other fantastic skills are performed by these beautiful animals who have been professionally trained. You will be surprised to see dolphins dancing to the music or seals playing with balls. All of them are here to entertain you to the best of their abilities. Get away from the pressures of everyday life and watch these creatures perform live on stage.
Dolphinarium Dubai features live performances that showcase their aquatic animal talent. So, when you plan your visit here at Dubai Dolphinarium, be sure to schedule the timing according to these shows. Dubai Dolphinarium offers you the chance to swim with these huge dolphins under special observation, adding to your excitement.
The Dubai Dolphinarium has much more to offer than just that. There are a variety of exotic bird species waiting to show you their skills and tricks. You can interact closely with these aerial species in this bird show that will immerse you into the world of birds as you have never experienced before.
Trampolines, mirror mazes, 5D /7D cinematic experiences, and virtual reality exhibitions organized here are worth attending. Some of them are meant to challenge your thinking ability, while others are meant to be completely entertaining.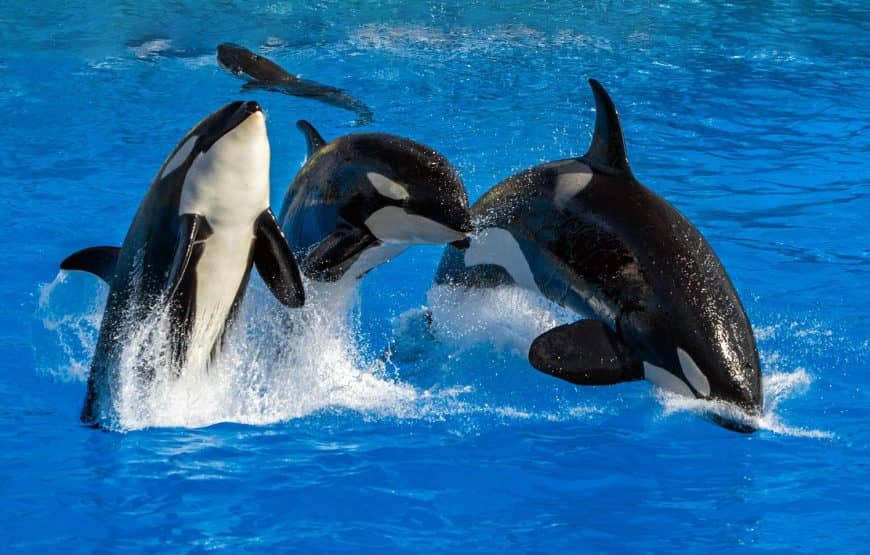 Things to Do in Dubai Dolphinarium 
1. Dolphin-Seal Performance:
Have you ever been treated to both dolphins and seals at the same time? Dubai Dolphinarium gives you the privilege of watching these beautiful underwater creatures in action. Their adorable skills and stunts are sure to leave you spellbound.
They are trained to sing, juggle, and play balls. They are well-trained and well experienced to jump through those hoops, so don't be surprised if you witness them! These creatures will showcase their masterpieces for 45 minutes during the show.
2. Creek Park Exotic Bird Show:
The only exotic bird show in the Middle East is the Creek Park Exotic Bird Show. Make sure, to the best of your ability, you are familiar with bird-spotting skills. In this show, you'll see a plethora of bird species that you might not even know existed.
Did you know that? They can be tricky. All kinds of exotic birds can be seen at Creek Park Exotic Bird Show, including Amazon parrots and green-winged macaws. Have you ever met Sea Eagle in person? If not, Steller's Sea Eagle awaits you at the Creek Park Exotic Show.
Even if you don't want to handle the bird yourself, the in-house photographers will capture some beautiful and joyous moments for you. After completing this section, you can move on to feeding some birds under the "Feed the Birds" program. The cost of this opportunity is 25 AED.
If you visit the Dubai Dolphinarium with kids, then it is one of the top things to do in Dubai and it is a welcome change from the usual routine. You'll surely enjoy it!
3. Dolphin Planet: 
Swim with dolphins and experience a majestic experience! You can hug, kiss, or dance with these wonderful sea creatures on Dolphin Planet. Expert trainers will walk you through the entire process, explaining everything you need to know about dolphins. You just need to know how to swim. 630 AED is all you need to pay for deep swimming.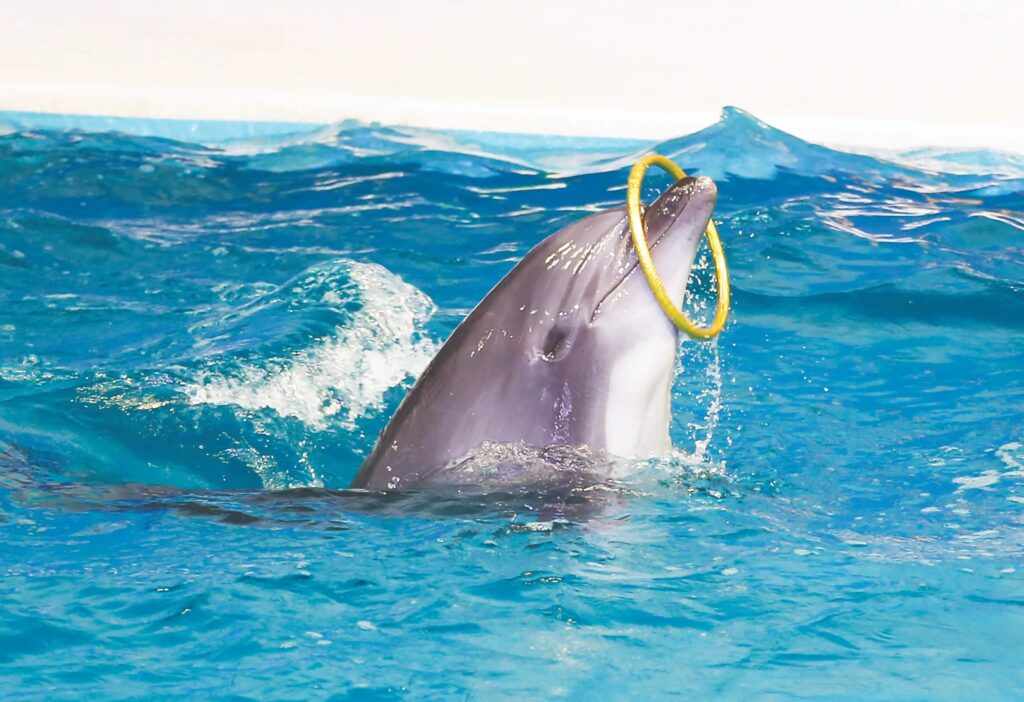 4. Mirror Maze – Labyrinth: 
This is a mind twister that challenges your brain to figure out how to exit the confusing mirror-maze. Your brain needs the challenge to figure out what direction is best for you. It's tricky! Do try it once! Keep your chin up if you nailed it.
5. 5D/7D Cinematic Experience: 
With its 3D cinematic footage, the 5D/7D Cinematic Experience promises to take you to the next level of entertainment. There are a variety of interactive films you can choose from for a complete family entertainment experience at this amazing place to visit with family in Dubai. 
6. Trampoline: 
This trampoline at Dubai Dolphinarium will take you back to your childhood. There are no age restrictions for using this indoor trampoline. In any case, your muscles will have a blast here.
7. Virtual Reality Experience: 
By utilizing technology to its greatest potential, Virtual Reality Experience creates the best artificial environment. This place lets you immerse yourself in the real beauty of the magical 3D world instead of watching them on a screen.
To experience the 3D world, all you need is perfect vision and sound. We can literally call it a magical world beyond the realms of thought.  
8. Gift Shop: 
Stepping out of Dubai Dolphinarium, you'll have a lot to carry in your backpack. Toys, personalized t-shirts, souvenirs, and many more make the perfect mementos to give to a special someone.
You can find a souvenir for every age group here, from kids to adults. Be sure to visit Dubai's best shopping areas before they run out of your favorite souvenir. 
9. Restaurant: 
There's no visit to Dubai that's complete without dining at a decent restaurant. Food at the Happy Valley of Dubai Dolphinarium is among the best in the city. There is everything you need for the perfect Asian meal, including hot and cold beverages. 
The staff at Happy Valley can also organize large group meals, which makes it an ideal place for your family meal. Dolfavouritem is a great place to treat your loved ones on your birthday if you plan to visit Dubai on that day! Don't miss out on their mouthwatering food!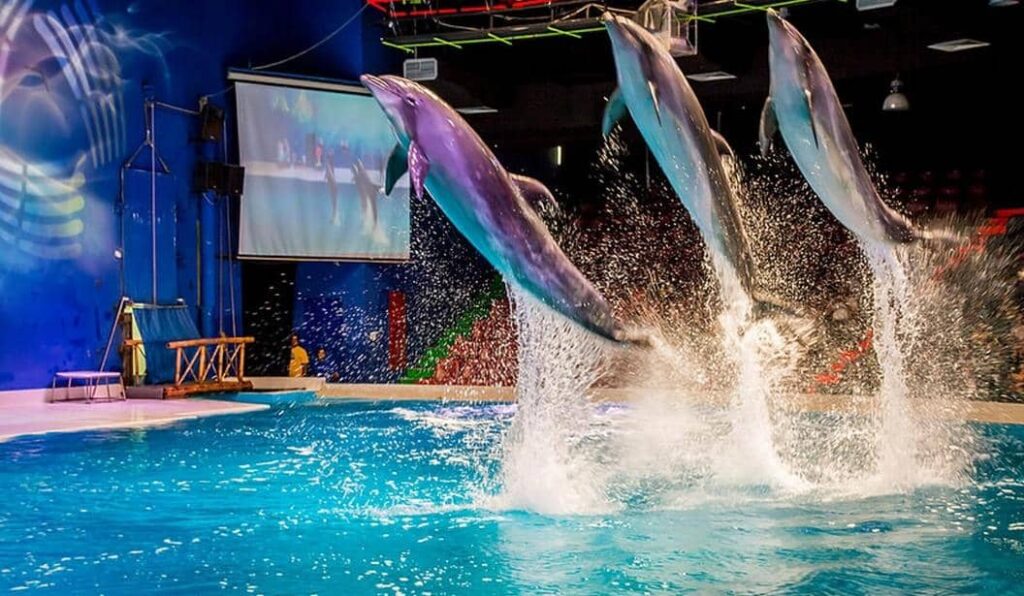 Price
:
Regular – 75 AED (Adults) and 45 AED (child)
VIP – 125 AED (Adults) and 85 AED (child)
Regular – 50 AED (Adults) and 30 AED (child
Deep Swimming – 630 AED (Mixed group) and 2500 AED (Private Group)
Location:
Riyadh Street, Inside the Creek Park Gate 1 – Dubai – United Arab Emirates
Timings:
Dubai Dolphinarium opens at 10:00 am in the morning and closes down by 07:30 pm. It operates on all working days. Sunday is an official off for the entire Dubai Dolphinarium.